Two days after a building collapsed a dog was discovered in the rubble.
On Friday, a 100-year-old building in Sioux Falls, South Dakota crumbled while workers were converting an old bar into a convenience store.
A woman, Emily Fodness, was trapped under the debris. She was rescued but her three dogs remained in the building. One was discovered shortly after Fodness, a second a few hours later but one still remained: a beagle named Molly.
Related: With the Help of a Sniffer Dog, Firefighters Discover Pup Buried Under Earthquake Rubble in Italy
Yesterday, 48 hours later, City Emergency Manager Regan Smith was on the scene when she heard a faint bark.
"'Did you hear that?' I asked (the engineer)," Smith told USA Today.
A search-and-rescue team was able to retrieve the dog shortly after, and the family was on site to reunite with Molly.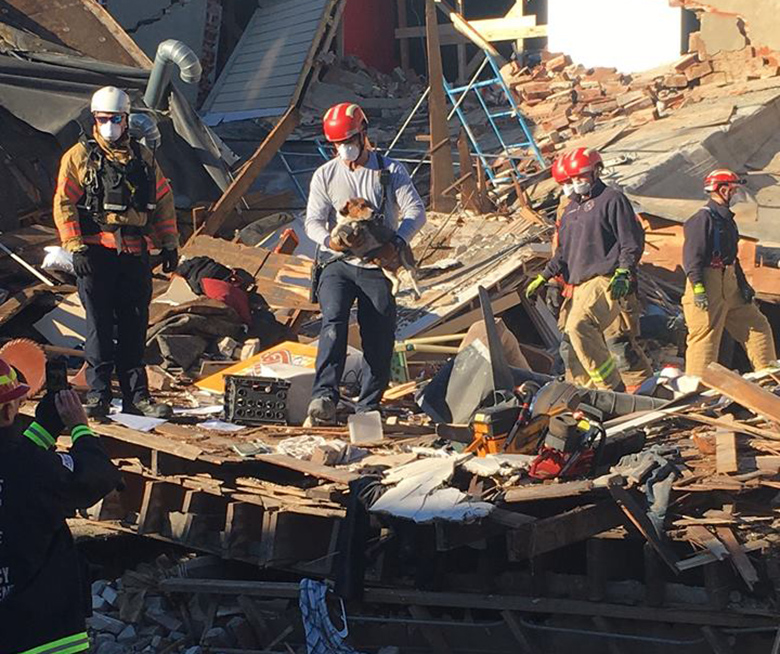 The beagle was in good condition.
Related: Dog Emerges From Rubble Nine Days After Earthquake Hits Italy
More photos from today's rescue of a third dog at the Copper Lounge building collapse site https://t.co/Sp7rajH4If via @argusleader pic.twitter.com/YqOffH9CUS

— Joe Ahlquist (@jahlquistPHOTO) December 4, 2016
A construction worker, Ethan McMahon, died during the building collapse. A makeshift memorial has been set up to honor him.
Related: Miracle in Texas: Family's Two Dogs Separately Found Under Tornado Rubble