Thanks to an Egyptian shelter's swift thinking and risky plan, a pit bull was saved from her abusive owner.
Named Lucy, the 1-year-old dog was well known at the shelter in Egypt. She was underweight, malnourished, covered with infections and had a broken jaw– all thanks to her owner, who also happened to be the shelter's landlord.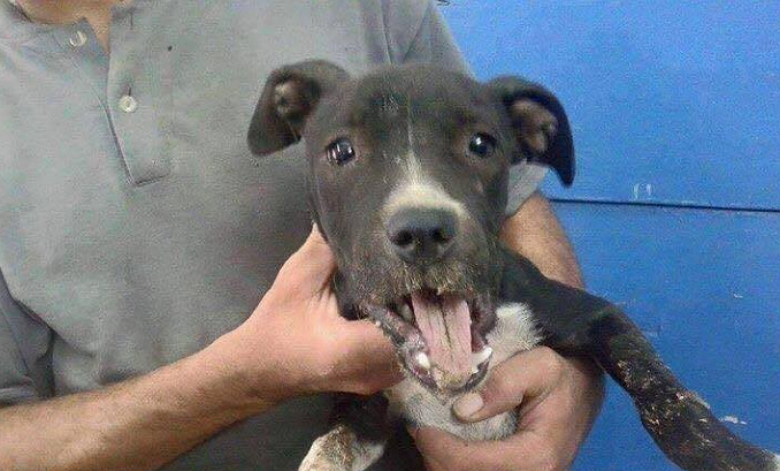 The shelter pled with the owner to surrender Lucy to the organization but to no avail. So, staff devised a risky plan — one in which could put the shelter's other animals and the organization itself in jeopardy. They decided to fake Lucy's death.
Related: Khalessi, the Abused Pit Bull That Stole Everyone's Heart, Has Passed Away
They contacted their sister organization in the U.S., Special Needs Animal Rescue and Rehabilitation, to see if they would be willing to have her transferred to the states. After the shelter got the green light from SNARR, they devised a plan to get her off the grounds.
"The shelter had to be very careful when getting the dog [off the property]," Lauren Connelly, SNARR's foster coordinator, told The Huffington Post. "If they made the man mad, then the shelter couldn't exist."
The Egyptian shelter waited until the man had left the property and then took the pup and put her on a plane bound for SNARR. When the man arrived back to his home, the shelter told him the dog had passed. He didn't ask any questions.
When Lucy reached the U.S. her condition was pretty bad. Not only was her jaw and skin infected, but she was extremely frightened.
"The smell of [Lucy's] infection would turn your stomach, it was awful," Connelly told HuffPost. "Her jaw was so painful, she couldn't eat. We had to make dog food soup so she can lick it up with her tongue."
Related: Dog Recovering After Being Abandoned on the Beach With 46-Pound Tumor
The vet got to work, repairing her jaw, giving her antibodies and a lot of TLC.
Months later, Lucy is a happy puppy. "She's just like any other dog now," Connelly says. "You'd never know that anything had happened to her."
The pup is currently being fostered in Pittsburgh but is looking for her forever home. To find out more, head over to SNARR. 
Related: One Year Later: Abused Pit Bull Caitlyn Found With Electrical Tape Around Her Muzzle Is Thriving