The cloudy weather and chilly temperatur didn't stop a bunch of surfing dogs from hanging ten this past weekend.
On Saturday, the second annual World Dog Surfing Championships was held in Linda Mar, San Francisco and more than 30 canines showed off their ride-waving skills, while 1,000 people cheered them on.
While the event is meant to be fun (and a bit silly), it doesn't mean it wasn't competitive. With people and their pups flying all over the world – including Florida, Texas, Hawaii and Australia – all had their eyes on the top dog award.
Related: Hang 10: Dogs to Compete In Huge Surfing Event in Southern California
Dogs could either ride solo and compete against others of the same stature, or tandem, with another dog or a person. This year, the pups faced some extra obstacles, including competing against a pig and having a pod of humpback whales show up and enjoy the show.
A number of dogs took prizes home for beating out the competition in their category, but Abbie, a rescued dog, ended up taking home the big trophy after surfing 20 feet. She won a plaque, while her owner, Michael Uy, got a bottle of wine.
Check out some of our favorite pictures:
Before the big show
Despite the weather, businesses set up for the surf competition
Getting mentally prepared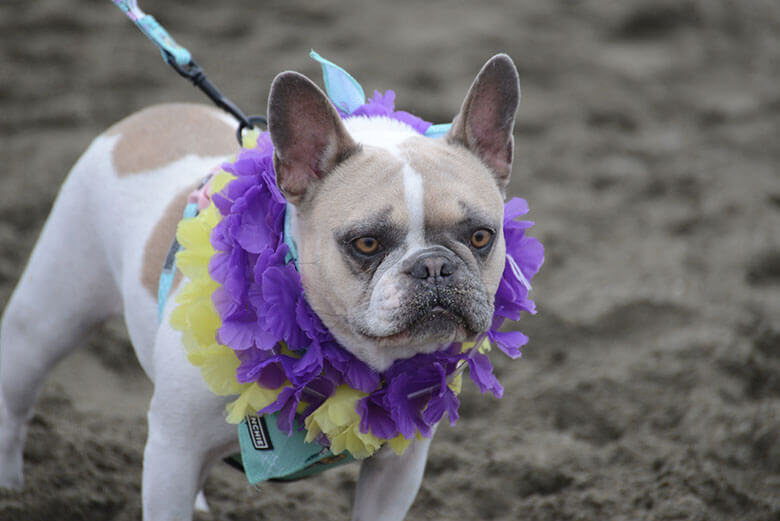 Checking out the competition
Related: San Francisco's Blue and Gold Fleet Lets People And Their Dogs Enjoy Views of the Bay
Psyching other dogs out
The big surf event
Up first, the smaller dogs
Then, the bigger pups hit the waves
Related: Dogs Show Off Their Surfing Skills In 10 Amazing Shots
Yes, there was a pig
And then the celebrations