A dog who chewed off his paw to escape a tether is now recovering after a surgery.
"We're happy to report that Maverick underwent surgery earlier today at Angell Animal Medical Center to repair his foot, and he is now resting comfortably," Massachusetts Society for the Prevention of Cruelty to Animal wrote in a Facebook post.
The 2-year-old German shepherd was rescued on July 12 in Middleboro after he became tangled in his tether and chewed off his foot to try and escape.  MSPCA Law Enforcement Officer Chelsea Weiand discovered him and took him to the hospital. When Maverick was brought in, he was emaciation and had scars on his body, a sign this wasn't the first incident the dog was caught in the tether.
Related: Dog That Desperately Tried to Chase Owner in Pickup Truck Is Up for Adoption
This is the most disturbing thing I've ever seen,"  MSPCA adoption center manager Alyssa Krieger told CBS Boston earlier this week. "Just clear-cut, horrible abuse."
Usually, an injury like Maverick's would be addressed by amputating the entire leg but because he has hip dysplasia this approach wasn't possible. "His pelvic dysplasia has advanced to the stage that he simply wouldn't be able to walk if we took his leg off," Dr. Mike Pavletic, said in a statement. 
Instead, Pavletic turned to an  innovative procedure he developed a few years ago, where they would actually reattach his foot to enable him to walk again. "This is the only option before us that ensures Maverick's foot can sustain normal wear and tear. He will get a second chance for a normal and pain-free life—and if any dog deserves that, it's Maverick," he said.
The two-hour surgery occurred on Tuesday and Maverick is now comfortable recovering at the MSPCA's Jamaica Plain hospital. He will be there for a few days to ensure there is no infection and to manage his pain. If all goes well, Maverick will wear a bootie for a few months and then his foot should be good to go.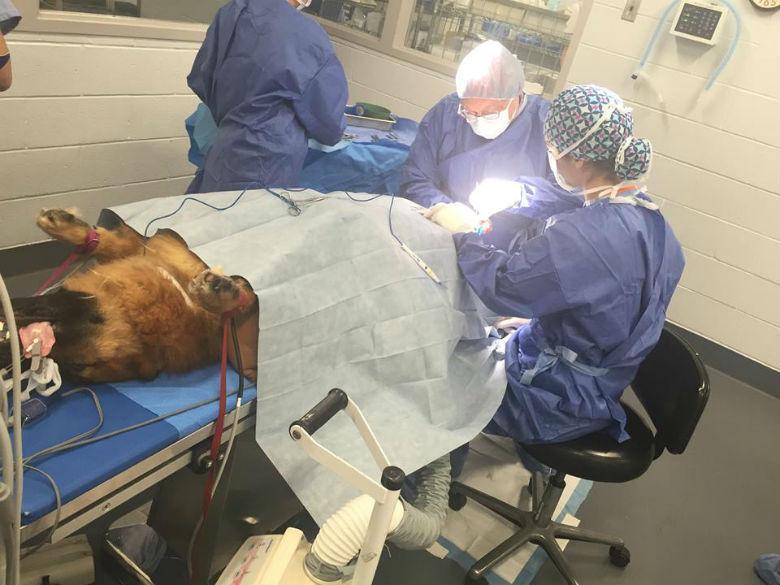 Related :Dog Who Gnawed Off Paw to Escape Chain, Finds New Home
After Maverick's story made headlines, the organization raised $57,000 from animal lovers all over the world. The amount far exceeded the $5,000″ required for the surgery. MSPCA plans on putting the money in Spike's Fund, which will help pay for medical expenses for animals under the MSPCA's care.
"We must realize that Maverick is one story on one day and that the stream of animals coming in and needing care never ends," adoption center manager Alyssa Krieger said. "His legacy will live on in through hundreds of animals whose medical needs will be addressed before they too go to new homes."
Maverick's former owner, Kevin Kennedy, was charged with felony animal cruelty for neglect and not getting Maverick medical care. He is scheduled to appear in Wareham District Court on Aug. 18. He could face up to seven years in prison and/or a fine of $5,000.
Maverick has received a lot of interest from people looking to adopt the dog and should find a forever home in the next few weeks.
Related:Unchain a Dog Month: Here is How to Set Pups Free
Main image via MSPCA-Angell