A dog scheduled to be euthanized based solely on his appearance has been returned to his owner.
Named Teddy, the presumed 4-year-old pit bull-mix was removed from his family on Feb. 5 and sentenced to death as he is considered a dangerous breed in the UK. (The other banned breeds are Japanese Tosa, Dogo Argentino and Fila Braziliero.)
Officials would have considered keeping the dog in the home if conditions were met, but because his owner, Thomas Hook, has a 4-year-old daughter, they felt that Teddy was a danger to his child.
Related: Owner Told His Dog Is Sentenced to Death Despite No Bite History
"The most injury Teddy could inflict is from wagging his tail. It hurts that he hasn't done anything wrong and he is being punished for it," Hook at the time told the Swindon Advertiser. "That's why I called him Teddy, he has the softest, sweetest nature. He has never shown any aggression to anyone."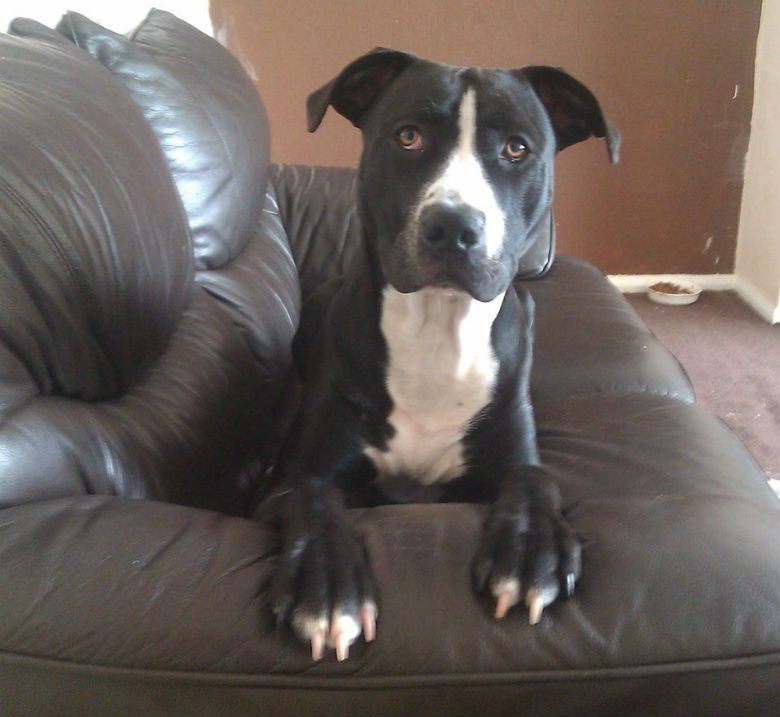 When taken, Hook fought back, stating when he adopted Teddy, he was told the dog was an American bulldog and would have never risked bringing in a banned breed to his home.
"I was 95 per cent sure that he would be allowed home. And to hear that made me so angry. He is not a danger to anyone and I will prove that," Hook told Swindon Advertiser at the time.
Despite his objections, Teddy has been kept in isolation for nearly five months, but on June 28, Hook got a hearing with the crown court – and got his dog back.
Related: One L.A. Comic Is Standing Up for Pit Bulls, Both On and Off the Stage
The court did place a contingent destruction order on Teddy, requiring Hook to get him neutered, microchipped and have a third-party liability insurance in place. Teddy also has to wear a muzzle and leash in public, cannot have anyone under 16 watch him, is not allowed to be given away or can't stay with someone for more than 30 days. Quite the laundry list for a dog that has never shown any sign of aggression.
"I wasn't happy with the condition he was returned in, as he has lost a substantial amount of weight and is very hand shy (cowers near human movement)," Hook tells Life With Dogs. "He's never been a scared dog but now he's a bit cautious.  He will bounce back in no time at all."
Related: This Organization Lists Pit Bull-Friendly Housing in One Easy-To-Use Database
Main image Facebook/PeasantMaster