A special dog is breaking hearts as he pushes past his deformities to prove to the world he deserves a chance.
Now named Cupid, the puppy was born without any front legs – and was thrown away in a trash bag likely due to his deformity.
Fortunately, a Good Samaritan found the 8-week-old great pyrenees and brought him to a Toronto shelter only to be rejected by the organization. The group reportedly wouldn't take in the dog because of his disability (Later, the shelter claimed it just didn't have the resources.) Two volunteers did track down the man who rescued the dog and said they would take the puppy home, according to Toronto Sun.
The next day, they contacted Joan Znidarec, of The Dog Rescuers, an Ontario-based rescue group. She agreed to take the puppy, naming him Cupid for his heart-shaped nose.
"When we were contacted about him we couldn't say no," Vanessa Lupton, the vice president of The Dog Rescuers, told This Dog's Life." He deserved a chance at a good life despite his special needs."
Related: Couple Fights for Dog Born With Deformed Front Legs
While he is saved and in good hands, Cupid has a long road to discovery. Because of his birth deformities, he need prosthetic legs to get around. But before he can get fitted for them, he has been using "training skis."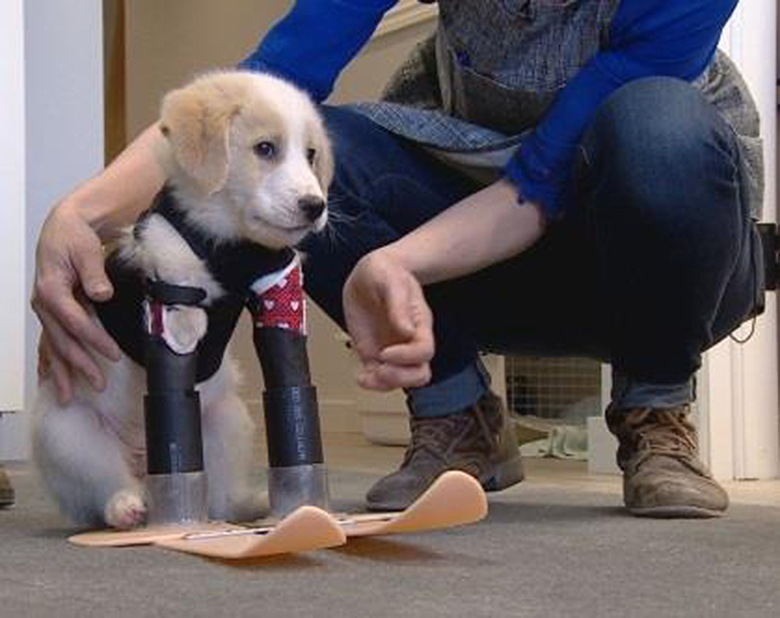 "He needs assistance as his back legs and core muscles aren't as strong as they need to be," the organization writes on its Facebook page. "Once he builds up some muscle he should be able to transition off of them."
Lupton added, "He's a very quick learner."
Besides learning to walk with prosthetics, Cupid needs a special diet, as he doesn't move like other dogs.
Despite his challenges, Cupid remains upbeat.  "He is silly, spunky and full of life," says Lupton. "Every person who meets him falls in love. He's quite the charmer!"
There has been a lot of interest in adopting Cupid, but before he finds his forever home, the organization wants to ensure it is the right fit.
Related: Puppy Whose Paws Mysteriously Fell Off, Learns to Run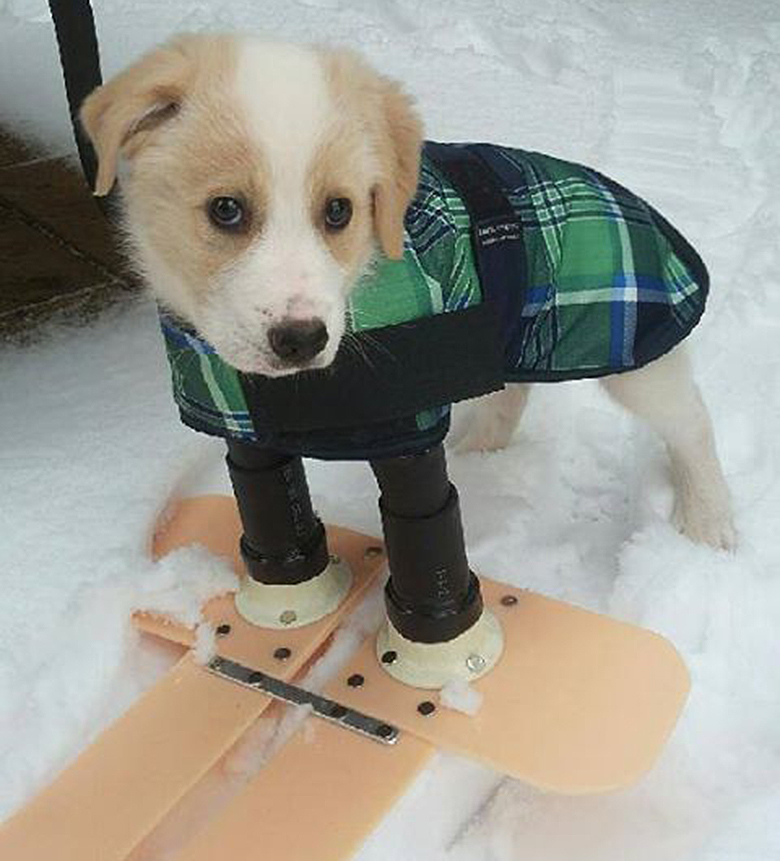 "We won't be looking for an adopter for him for another few weeks. At this point we know that he needs a family where someone is home regularly and a home where all members of the home are over the age of 14," says Lupton. "Once he is up on his prosthetics without the skis we will have a better idea of what his needs will be."
In the meantime, he is just breaking hearts with all his cute antics.