A dog who was left outside with trash has been saved and was able spend Christmas in a warm home.
Terri Looby, a volunteer at Detroit Animal Welfare Group (DAWG), received a call about a small dog wondering around in the freezing winter weather. The caller was hoping she could help capture the pup and find the owner.
Lobby, along with another volunteer, drove to the Detroit neighborhood, but wasn't having any luck finding the dog. Then, she passed a heaping pile of trash in what appears to be left out after someone had moved from a home.
Related: Pit Bull Discarded in Dumpster Hours Before Giving Birth
"There was garbage, boxes trash bags and a chair," Looby tells This Dog's Life. "On the chair was a dog curled up in a tight ball."
The dog, a large pit bull mix, was not the small one she expected, but that didn't mean she wasn't going to help him.
Once the dog heard them, he began wagging his tail and got up to make his way to the car. It was then Looby noticed he was limping. Despite his injury, the pit bull, now named Ollie-Loo, was more than happy to go into a warm car.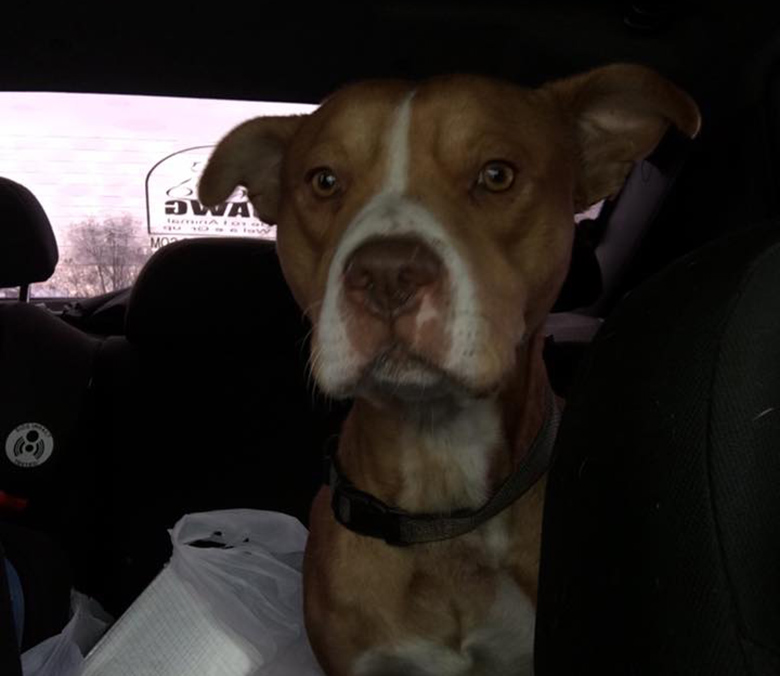 "I opened my car door, and he jumped in right away," Looby says. "He sat in the back and could smell the chicken patty that I brought with me. He kept going forward to the front but never took the chicken patty until we told him he could have it."
Related: Puppy Found in Plastic Container at Airport Gets New Home
They drove around for 45 minutes trying to find the small dog before a neighbor provided some details.
"The neighbor across the street told us that his owners came back earlier that day and took the little dog but left Ollie-Loo sitting with the trash," says Looby. "The owners were evicted, and the landlord is the one who threw the dogs out in the freezing cold."
That explained the small dog sighting but didn't provide any more information as why Ollie-Loo was left behind. Looby was going to make sure he would be safe, loved and out of the cold weather.
Once DAWGS took Ollie-Loo to the vet, they not only realized he was extremely underweight, with ribs protruding, but had a broken femur (and later it was revealed he was heartworm positive).
Related: Labrador Who Lost Her Babies Steps in as Mom to Orphan Bulldog Puppies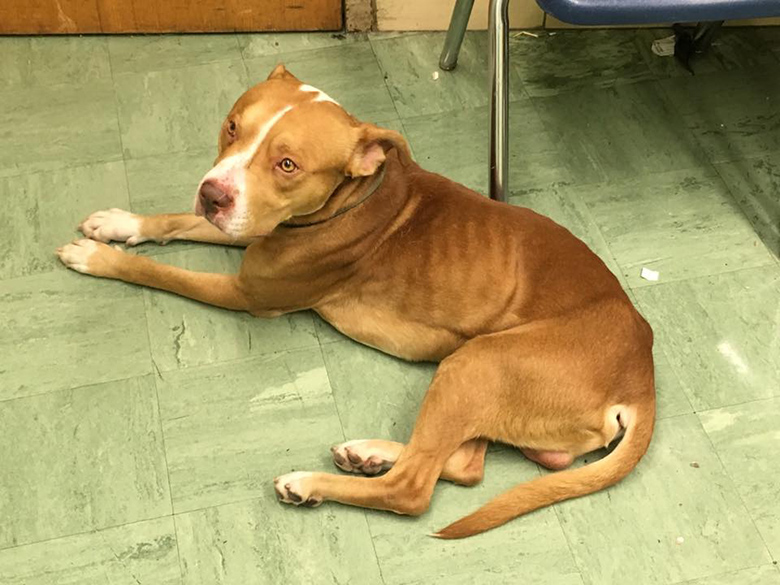 Despite the pain, the dog was grateful for a second chance.
"Ollie-Loo is very sweet boy who wants to be with someone," says Looby. "If you walk away he cries."
Currently, Ollie-Loo is in his foster home was able to enjoy the holiday season feeling loved. He is recovering from his surgery and will be treated for heartworm. His foster dad is hoping to adopt him.
DAWGS has started a fund for Ollie-Loo on YouCaring to help with his medical bills.
Related: Stray Dog Who Lost Half His Face Due to Maggots Makes Amazing Recovery