Running a long-distance race is no easy feat. There is the training, commitment and mental toughness that goes into every competition. But one four-legged competitor decided to do away with all the heart, sweat and tears and jump into a half marathon on a whim – and she placed seventh in the race.
Named Ludivine, the 2-year-old bloodhound made her way to the starting line of the Trackless Train Trek Half Marathon in Elkmont, Alabama after slipping out of her yard during a bathroom break.
"All I did was open the door, and she ran the race on her own accord," owner April Hamlin, told Runner's World.
Related: Running Paws: For Dogs That Aren't Okay With Just a Walk
Once it was go time, the dog ran alongside the other runners and for much of the way stayed ahead of the pack with lead runners, including Jim Clemens.
"Every time I thought she had dropped off to go back home, I would hear her coming back up to me, and she would race past me up to the two leaders," Clemens, who ended up finishing fourth, told the outlet. "She would run off to romp through streams and into yards to sniff around for a while."
But she always came back, keeping pace with runner Tim Horvath. The runner told the outlet that the Ludivine would get sidetracked meeting another dog, mules and cows but would hop back into the race.
Horvath ended up clocking in at 1:32, landing him in sixth place. Ludivine was right behind him, coming in seventh place with a time of 1:32:56.
Related: Dog and Cross-Country Runner Make Iowa History
Volunteers were so in awe that a dog ran 13.1 miles they gave her a special medal. Ludivine's owner was also quite surprised but also quite proud.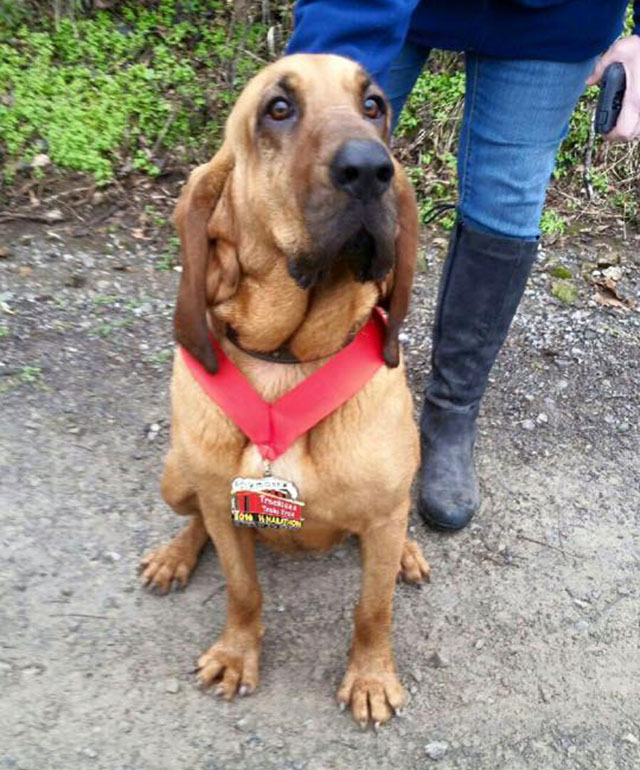 "It's the first half marathon in Elkmont, and the people who started it are parents of the kids who run cross country," Hamlin told the outlet. "They wanted to try and fundraise because our school system doesn't have a ton of money for cross country. Because of this dog, they are getting so much publicity, and I think that's the best part."
Related: A Company That Takes New York City Dogs on Amazing Hikes in the Country? Yes, Please.