A baseball team just welcomed its newest addition: an adorable bat pup.
A few weeks back, a ticket salesperson discovered an abandoned 7-week-old puppy crying in the parking lot at the Grayson Stadium in Savannah, Ga.
The pup had no collar, tags or microchip. Jared Orton, the Savannah Bananas' team president knew right away the dog, now named Daisy, would become the newest addition to the amateur baseball team.
"She has to be part of the family now," he told BuzzFeed News. "We thought making her part of the Savannah Bananas family would be pretty fun."
The team made it official this past week, with Orton and his wife adopted her. She will be the first bat dog for the Savannah Bananas, and while retrieving balls may be in her future, the team needs to wait a little bit.
Related: When It Comes to Security Training, the Brewers' Mascot Dog Is an Epic Failure
"We still don't really know how big she's going to get," said Orton. "In the next year or so we'll have an idea of her size and what she can do.
For now, she is just in charge of making people smile as they enter the stadium.
While this latest addition is sure to make fans extremely happy, not everyone is feeling the love. Milwaukee Brewers unofficial mascot Hank, a bichon frise mix, will now have to compete for MVP: Most Valuable Pup.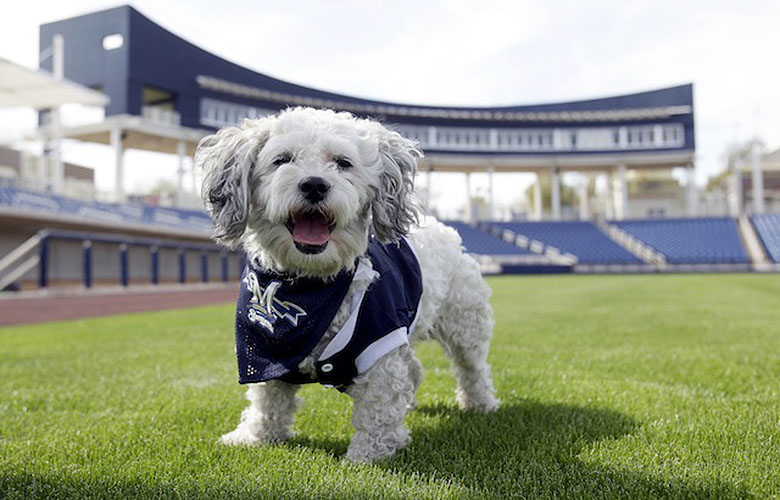 Like Daisy, Hank became part of the team after he was discovered wandering the field. Thought to be hit by a car, the team's vice president adopted him and Hank became an overnight sensation. The pup was named Dog of the Year, has his mug on baseball memorabilia and received his very own custom-made dog house.
We reached out to Hank for comment but have yet to hear from him.
Related: Conspiracy Theory: Did a Baseball Team Swap Out Its Mascot Dog?
Images via Facebook