Let's face it, putting chemicals like high fructose corn syrup, aspartame and certain food dyes into your body isn't really the best thing for it, and we often hear about the harsh realities of doing so. But how about what you put on your body? Let alone, what you put on your dog's body?
Whether you bathe your dog to get rid of the dirt he just rolled in or to stay fresh after long walks in the park, cleanliness isn't necessarily the only thing you should worry about. For instance, some shampoos have SLS (sodium laureth sulfate) or SLES (sodium lauryl ether sulfate), lathering agents, that have been shown to cause eye or skin irritation. Also synthetic fragrances used to create a "natural" smell have been reported to cause diseases, birth defects and allergic reactions. And BHA, a preservative that increases the shelf life, has been classified as "reasonably anticipated to be a human carcinogen," according the National Institute of Health. What may be harmful for humans may also be harmful to dogs.
Fortunately, there is an all-in-one solution for both you and your dog.
Related: Sophie Gamand's Book 'Wet Dog' Goes Way Beyond Cute Pictures of Pups at Bath Time
Meet Come Clean soaps. Founded by Yvonne Kai, the New York City-based company focuses on make moisturizing glycerin soap bars, which are safe enough for both humans and dogs to use. While this doesn't mean you and your pet need to start lathering up together (although you definitely could…), the "something good enough for you is good for your dog is a great mentality to have," says Kai.
The idea for Come Clean Soaps came about when Kai realized that pet owners don't just want the best for themselves but also for their pets. She discovered that most pet shampoos and grooming products were full of those potentially chemicals mentioned above, and knew there'd be a market for more natural products.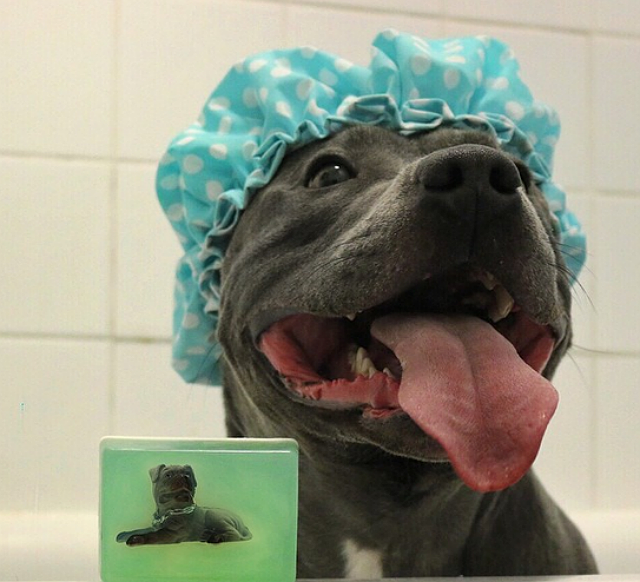 "I noticed that more and more people have pets as 'fur kids' and they are willing to get the best items for them," said Kai. "Many pet foods are now organic and are made with human grade ingredients. I wanted to create something for pets that was human grade and also great for them."
Still not convinced that this is more than the average grooming product? Kai explains the thought she puts into the soap, like when she designed "a soap that was called Nom Nom Brunch. It had a stack of pancakes inside, smelled like toasted pecans and French vanilla, and was the color of amber maple syrup." It sounds good enough to eat– just make sure your dog doesn't!
Related: The Reason Why This Dog Is Loving Every Minute of His Blissful Bath
With a background in fashion, graphic design and marketing, Kai comes up with the designs for the soap herself and likes to "create a complete story."
Most Come Clean soaps include a small toy at the center, making them all the more unique. Kai features various dog breeds as the toys, which markets them even more to dog owners.  She tends to feature the most common abandoned and rescued dogs that are in shelters, including pit bulls, Chihuahuas and mutts.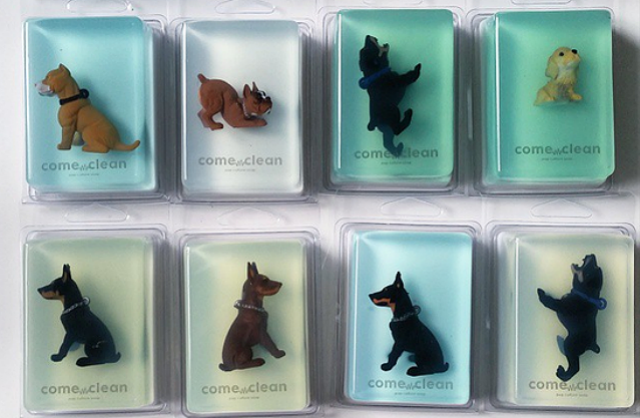 Besides the dog-focused soaps, Kai also has a "pop culture" collection, along with a wide variety of sneaker soaps. Regardless of the focus — human or dog — they are all safe for people and pups.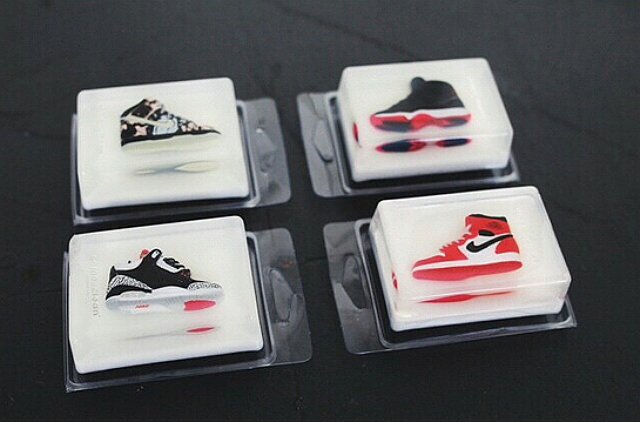 All soaps are made with 100 percent pure essential oils like lemon eucalyptus (anti-flea and anti-tick), coconut lavender (moisturizing) and bergamot sage (calming) and natural emulsifiers, cleansers and moisturizers.  Do remember to keep away from your pup's eyes.
At the moment, Come Clean is in 17 retail stores and available on Etsy for $14, but Kai sees even bigger plans for the future. "We may be carried in an awesome retailer this summer that has 200 stores nationwide," said Kai. "So that is exciting…I want to design more soaps, collaborations with artists and companies and educating people about ingredients and 'honest' products!"
Although both the designs are very creative, Kai says "the soap is a great reminder to people to look at things from an ingredients point of view and not just the packaging or the name." With Come Clean soaps, you'll know your dog is getting the cleaning he deserves, even if most of the soap ends up on you instead.
Related: We All Wish Our Dogs Enjoyed Bathes as Much as This Pug