While people in China are having a hard time getting their hands on the latest iPhone, one dog was able to get his paws on eight of them.
Belonging to Wang Sicong, son of Chinese billionaire Wang Jianlin (worth around $30 billion), Keke, an Alaskan malamute, was pictured with eight iPhone 7 handsets surrounding her on the social media website Weibo (similar to Twitter). The image was uploaded on the dog's verified Weibo account, with the post:
"I don't understand all the show-off posts on (social media)," read the post alongside the photos.
"What's the point? Don't make me do it?"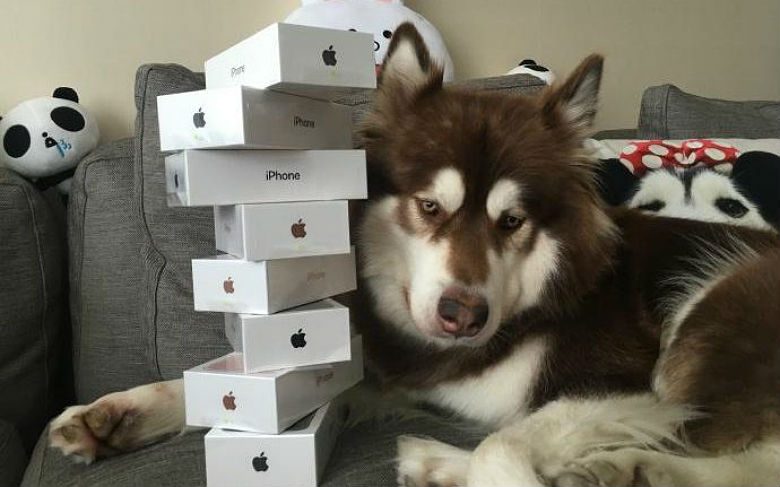 Each phone goes for more than $1,000 U.S. dollars, making people green with envy.
Related: Have You Seen Me? Gobi, the Stray Marathon Dog, Has Gone Missing in China.
This isn't the first time Keke has been spotted sporting some high-end Apple products.
Last year, the dog was photographed with two Gold Apple watches with luxury bands, worth around $37,000.
In 2015, the official Xinhua news agency published a blistering commentary about Wang accusing him of having "stained the purity of the Chinese (people)" and warning others not to copy the "arrogant and coarse celebrity."
Wang has been criticized for his flashiness, with official news agency Xinhua writing that he had stained the purity of the Chinese (people)," according to Global Times.
Wang belongs to an elite group in China, the fu'erdai or second-generation rich, which is basically a bunch of rich kids living off their parents' success.
Related: In China, Vendors are Scamming People With 'Tiger Dog' Breed