This summer, hundreds of dog statues will be placed all throughout Chicago to honor fallen police officers.
The art installation, called K-9s for Cops, will showcase 200 statues of dogs on Magnificent Mile and other areas.
"We hosted a very successful public art initiative, Horses of Honor, back in 2014 and raised about $500,000 for our programs supporting fallen and severely injured Chicago police officers," says John Gordon, project manager for the Chicago Police Memorial Foundation, the organization benefiting from this project. "We hope to build on that success with Chicago K9s for Cops."
Related: Pit Bull to Join New York Police Force's K9 Unit
The statues will be designed by sponsored artists and after the installation they will be auctioned off.
The public art initiative "highlights the work of Chicago's premier artists while honoring the real Canine Unit police officers and their canine partners who help keep Chicago safe," Chicago Police Memorial Foundation Executive Director Phil Cline said in a news release.
Related: Program Gives Stray Dogs a Second Chance by Turning Them Into Police K9 Rock Stars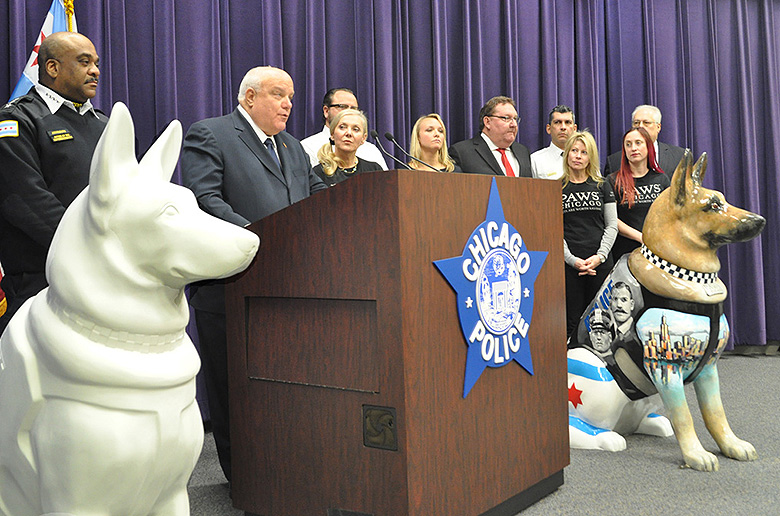 The proceeds from the sales will go to the Chicago Police Memorial Foundation. The organization will use the funds to support families of slain officers, buy bullet-proof vests for police and help maintain the Gold Star Families Memorial and Park.
The foundation also plans on using a portion of the proceeds to support PAWS Chicago, the city's largest no-kill shelter, and will go towards the free spay and neuter program, along with covering the costs of medical care for animals.
"At the end of the day, the statue is more than a police K9. It is a dog, so why not incorporate a charity whose sole mission is protecting these and other animals," says Gordon. "I believe the partnership allows us to take the initiative to a whole new level."
The installation will be on display from July 23 to Labor Day.
Related: K-9 Dog Gets to Take a Break From Work to Enjoy a Starbuck's 'Puppuccino'