Cesar Milan, hundreds of adoptable dogs and a whole lot of fun, what more do you need for your weekend?
On October 15 and 16, the Marin Humane Society and Pet Food Express have teamed up to bring San Franciscans the sixth annual Bay Area Pet Fair at the Marin Center in San Rafael. The daylong event will have hundreds of dogs looking for homes (and cats, reptiles, bunnies and other animals, too), along with a slew of activities for dog lovers.
"We hope that everyone gets to understand how many wonderful amazing animals there are available for adoption, and just maybe, adopt one themselves," says Mike Murray, the Director of Community Outreach at Pet Food Express, tell This Dog's Life.
The fair will have more than 70 shelters and rescues, with one being Rocket Dog Rescue, a nonprofit animal rescue organization in San Francisco that will be working with Cesar Millan.
Related: Dogs Hit the Waves for First World Surfing Championships in Northern California
"He approached Rocket Dog Rescue, wanting to film their work for one of his shows. The only weekend he could film them was the weekend of the Pet Fair," says Murray. "When Rocket Dog told him about the pet fair and what it meant to the rescue groups, he wanted to come see it for himself and film them there."
Millan, along with his son Andre, will be there to assist owners in training their dogs and helping them overcome behavioral issues. They will be under the "big top" on Saturday at 11 am and 2 pm.
Other activities include "Splash Dogs," where pups can leap off a dock into a huge pool; watch rescue dogs show off their agility skills, doggie dash and paw print artwork.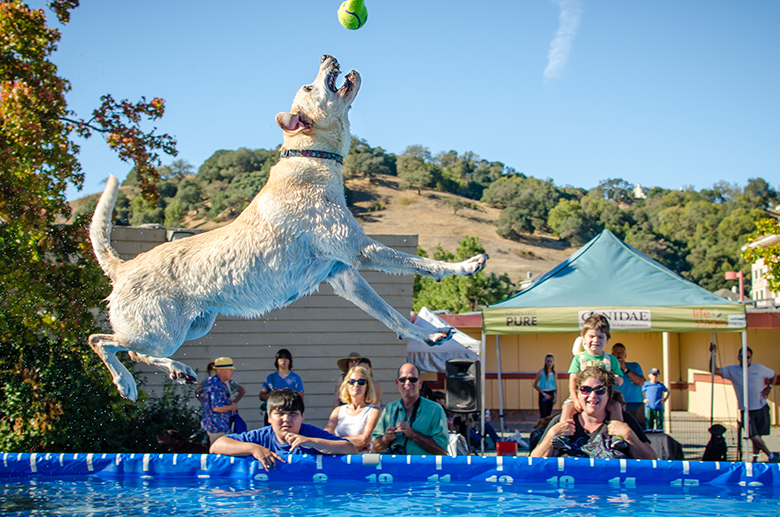 For the kiddos, there will be a Lego jeep for youngsters to test out their creative skills, face painting and a special Girl Scouts activity.
Related: Meet the Man Photographing San Francisco's Cutest Dogs on the Streets
The fair began some years back but on a much smaller scale. It was run by a local pet newspaper, Fetch, but after the publication sold, the event was to end. But Murray saw an opportunity.
"I had attended with my rescue group and thought it had a lot of potential for being a huge adoption event, with many more rescues and shelters and vendors," he says.
To him, and the rest of the Pet Food Express team, the fit seemed natural. "Our community work with rescue and animal shelters takes the place of traditional marketing in our company," Murray says. "All year long these groups hold adoption events at our stores, and we do multiple campaigns to help them raise funding, get foster homes and new volunteers. So, the Pet Fair is just a large two-day version of what we do year round."
The fair starts on Oct. 15 at 10 am and goes until 5pm. The same hours on Oct. 16. The location is
Related: San Francisco Man Opens His Heart to Neighbors' Homeless Dogs, Feeding Them Every Day