The flower girl was lovely. Long flowing blond hair, slender neck encircled by a handmade flower necklace. All eyes were on Norah as she made her way, slowly and stately, up the aisle, wagging her tail. Yes, Norah is the bride's golden retriever.
The 4-year-old dog came into Briana Schaefer's life when she was just a puppy – and has been with the 30-year-old woman through thick and thin.
"Norah is the light of my life," Schaefer tells This Dog's Life. "I always say every morning is like Christmas morning when you have a dog."
So, it was a no-brainer to include the 4-year-old dog on Schaefer's special day, as she wed now-husband Kevin this past November in Chicago.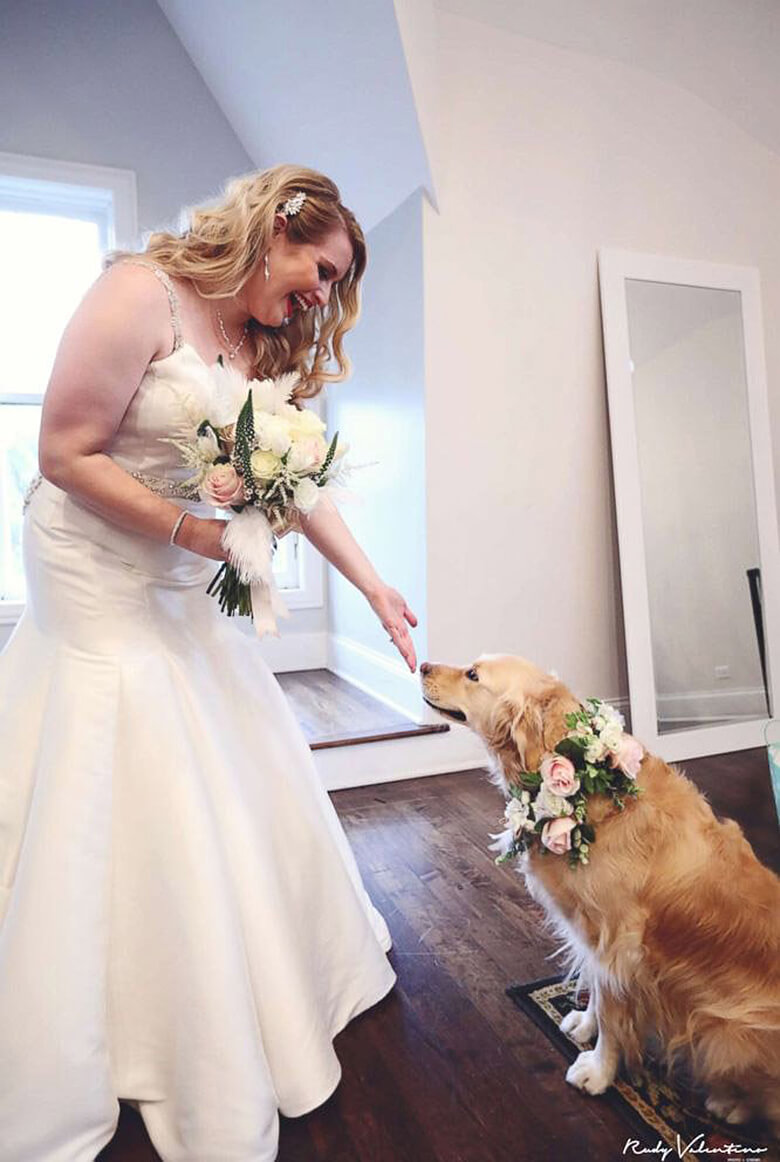 "I bring her everywhere I can with me, and it just made sense to have her be part of the wedding," says Schaefer. "All other members of my family were going to be there, why shouldn't she?"
But having an idea to include her dog and being able to do so, are two different things.
Related: NFL Player and His Bride Forgo Wedding Gifts to Help Stray Dogs
Schaefer set out to find a wedding venue that allowed dogs. "Luckily, in Chicago, that isn't too hard to find, especially because I think it's becoming more and more popular to include pets in weddings," she says. The Stan Mansion fit the bill perfectly.
After Schaefer overcame that major hurdle, now it was time to focus on the fun part: what was Norah going to wear. After all, the other flower girls were decked out in beautiful Champaign and tulle dresses. Photos on Pinterest of dogs wearing flower collars gave Schaefer direction.
"My friend's mom is incredibly crafty and offered to make the flower collar for us as her wedding gift to us," says Schaefer. "I'm so glad I took her up on it, because the flower collar was absolutely beautiful and will remain one of my favorite keepsakes from the wedding."
Then the big day came and Norah, looking adorable, was joined by Schaefer's 7-year-old half-sister, Chloe, also a flower girl. "The two of them are best buddies and were both beyond thrilled to be walking together," says Schaefer. Norah was the perfect flower dog, waiting calmly as her human walked up the aisle.
Related: Prescription for a Happy Marriage? Cute Dog Photos.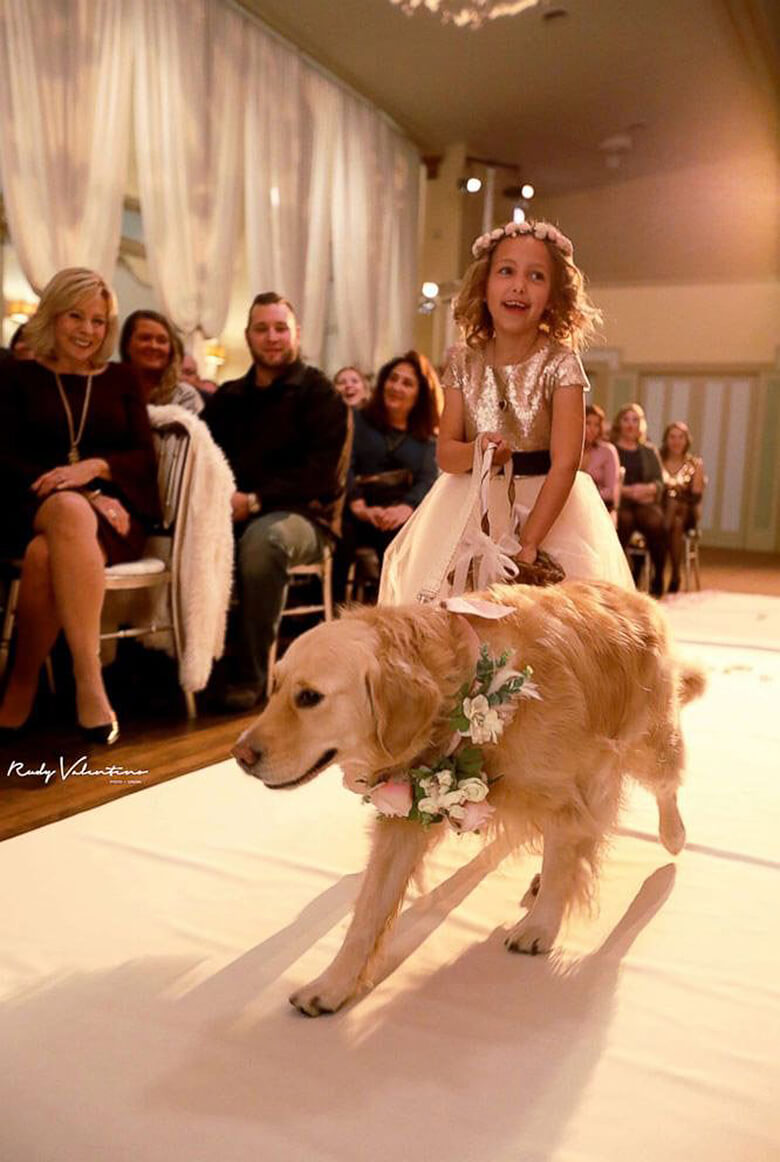 But she wasn't the only dog in the wedding. The bride lost her other beloved dog, Tandi, an Aussie/Retriever mix, a few years ago. "When she passed away in early 2014, she left a huge hole in my heart," says Schaefer.
To honor the deceased dog, her maid of honor surprised Schaefer with a photo of Tandi on her bouquet. "As I burst into tears she said, 'This way you can have both of your dogs with you on your wedding day.'"
Schaefer was so incredibly grateful to have both her pups be part of her wedding.
"Dogs bring pure, uncomplicated joy to my life," she says. "With the simplicity of their needs, their silly antics and their ability to provide comfort and support by doing nothing more than offering their big heads (or butts) to scratch, they really remind you what's important in life."
Related: Couples Are Hiring $500 Pet Assistants, So Their Dog Can Be Part of Their Special Day