You can talk the talk but can you walk the walk?
For all those dog lovers looking to help local shelter dogs (and other animals), Best Friends Animal Society's Strut Your Mutt is for you.
In its sixth year, the annual event brings together people from all walks of life with one thing in common: to help animals, says the organization's public-relations manager Hannah Stember. "It's such a fun event for everyone to celebrate all of the hard work put into animal rescue every day. "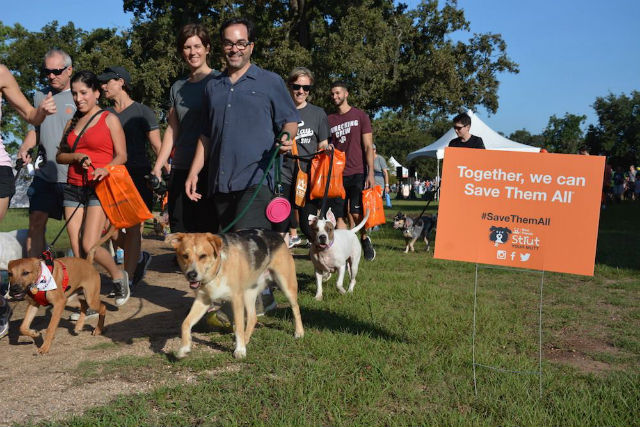 Participants can choose to do a leisurely dog walk, or new this year, a 5K run (with or without your dog), along Manhattan's west side. After people complete their walk or run, they can enjoy all the festivities at the dog-themed fair. Activities include pet contests, photos, treats, raffles and auctions. Food will be pizza form Valuducci's and Gorilla grilled cheese. Beverages are coming from Brooklyn Organic Coffee and Tea.
Related: Emmy Rossum, Amanda Seyfried and Others Show Their Support at the Best Friends Super Adoption
Also people can check out some of the amazing local vendors such as Little Bear Dog Apparel and Rescue Chocolate.
Last year the event had approximately 1,600 people participate, along with 1,000 dogs. It raised $282,000, with about $195,000 staying in the New York City area to help local shelter animals. The money specifically goes towards lifesaving adoption program and spay/neuter services. For us New Yorkers, Best Friends Animal Society has some exciting initiatives for this coming year, including more Super Adoptions, Holiday promotions and of course, the brand new adoption center in SoHo.
Registration will begin at 7 am (you can also register online), the 5K race will start at 9 am, the walk will begin at 9:30 am and the festival will end at 1 pm. You can check out the Strut Your Mutt path here.  The spot to meet is Hudson River Park's Pier 26, New York, New York. To find out more about the event, head over to Best Friends Animal Society. 
Related: Best Friends Animal Society Is Coming to New York City, Opening Facility in 2016