New Yorkers love a good happy hour to unwind at the end of the day in a fun atmosphere. But for dog owners, getting home in time to take care of the pooch can take precedence over hitting the bar after work. The solution? "Yappy hour."
Are you really that shocked? With the plethora of luxury dog products hitting the market and owners treating them more and more like humans (dog yoga, pawdicures, you name it), it should be no surprise that dogs are getting their own happy hour, but at least in this case, the owners can have some fun for themselves too.
At doggy daycare 75th & Paws in the Upper East Side, small dogs and their parents gather on Tuesday nights to let the pups run around, sniff a few butts, celebrate occasional birthdays and sit on the furniture to get pet by other owners while the adults drinks wine and look on in amusement at their furry friends socializing. Heaven for all –and that is exactly how owner Tamara Smith wants it.
Related: Where New York Dogs Go for Faux Hawks, Fur Dyeing and Everything in Between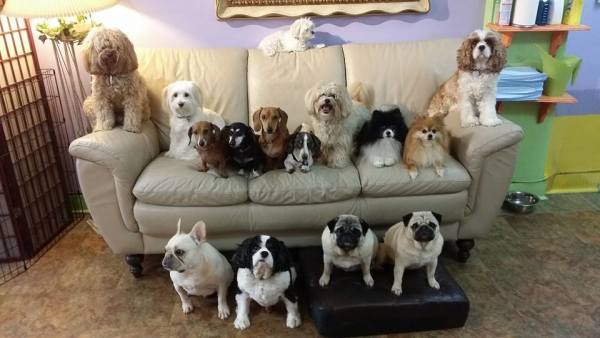 Social activities for dogs aren't a rarity these days, but Smith (along with her husband Max) was perhaps a bit ahead of her time when she decided to launch the yappy hour experience.
For much of her life, Tamara had worked in the handbag industry, having owned six retail stores over the course of her career, including one in Italy. Following a breast cancer diagnosis in 2008, however, she didn't want the stress of retail and decided to convert her handbag store into the daycare for small dogs and hasn't looked back since.
A few months later, in early 2009, Smith launched the yappy hour, a free event for dog owners. "I just wanted to create a situation where I could ask the owner to come in with their dog, because I interview every dog that comes in here, so that way we kind of open the door for anybody who wanted to check out the daycare," explains Smith.
Not every yappy hour participant is a client, though, as the event is open to all dog owners.
Related: Running Paws: For Dogs That Aren't Okay With Just a Walk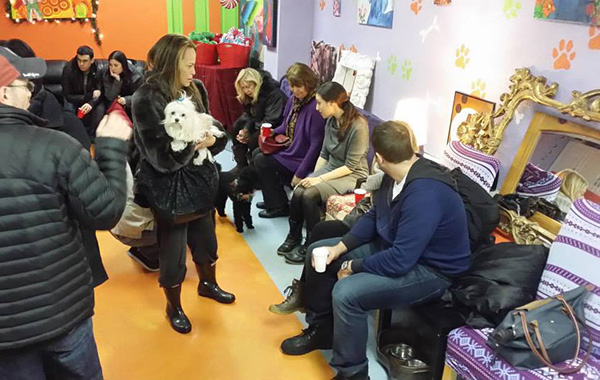 "Some people come just for yappy hour, just to play," she says. "I have quite a few people who have been coming for years just for yappy hour, and they're not clients, but if they know someone who needs a place, they'll recommend us." Besides forming a relationship with Smith, these owners have forged friendships with other owners.
Aside from yappy hour, owners can also rent out 75th & Paws on the weekends for dog parties (the daycare is closed.) Smith is also considering creating a members-only social club of sorts on the weekends, where owners and their dogs can come in to hang out, or "lounge with the hounds," as she says.
For now, dogs and their parents can come in on Tuesday nights from 7 to 8 pm, giving both groups a chance to make some new friends.
"This is a very laid-back, home-type environment," says Smith. "Even though it's a storefront, it's very relaxing for the dogs. They feel like it's their house when they come in."
Related: Williamsburg's Eclectic Cafe Colette Has Something for Everyone — Including Your Begging Dog