There will definitely be a lot of happy animals giving thanks this year.
For Animal Care & Control's second annual "New York's Kindest Dinner & Awards," 200 animals lovers gathered at City Winery, hoping to spread holiday cheer to the thousands of dogs (and other animals) in the New York City shelter system. And boy did they.
Raising $95,000, the event's proceeds will be used to build backyard playgrounds for the AC&C's care centers in Manhattan and Brooklyn – a brilliant mission for a city that is so space deprived. While that is definitely a lot of bones from animal lovers, The Bloomberg Sisters Foundation wanted to add a little bit more momentum to the initiative by donating $100,000 to the cause.
"We're so grateful to our honorees, and all our supporters and partners, for coming together to make a difference for animals in NYC," said AC&C executive director Risa Weinstock. "We recently introduced dog playgroups at AC&C to provide better enrichment and exercise for our canine residents. New play areas will enable us to take full advantage of what playgroups have to offer, and improve the wellbeing of thousands of shelter dogs each year.
Related: Animal Care & Control of New York City Is Getting a Much-Needed Makeover
While our four-legged friends were obviously the main attraction, there was some folks that definitely deserved accolades for their work with the nonprofit:
Rob Anzalone and Jeff Wolk of FENWICK KEATS real estate provided a substantial donation to help fund AC&C's first Mobile Adoption Center, allowing the organization to bring hundreds of dogs and cats to neighborhoods across the five boroughs.
Everyone's favorite dog-subscription service BarkBox was recognized for helping the organization bring awareness to pit bulls. The company created the NY Pit Bull Appreciation Society and provides a free BarkBox for every pit bull adopted through AC&C.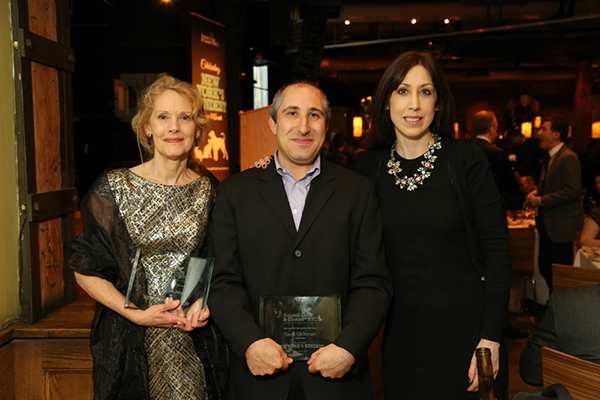 Honorees Kathryn Willis of Anjellicle Cats Rescue and David Glicksman along with emcee Susan Richards. Photo Credit: Jason Howard Photography
The people behind Anjellicle Cats Rescue has played a pivotal role in helping homeless cats find homes. This year alone, the organization has taken in more than 1,000 cats from A&C. And David Glicksman was also honored. He has a full-time job as a CPA and director of finance at a law firm but that doesn't stop him from giving back. Glicksman works tirelessly with AC&C on weekends while also being a spokesperson for the organization.
Wheels of Hope Transport program, a service put on by Mayor's Alliance, transports animals from AC&C to rescue groups and fosters all year long – and at no charge. In 2014, almost 14,000 animals were transported, allowing AC&C to save more furry friends.
Related: