When dog trainer Amy Felts adopted her pit bull Goody, she had a long road ahead of her. The dog had an abused by someone who had cut off part of her back legs, which obviously made it difficult for the pup to get around.
Here is a clip of her when Felts initially adopted Goody.
"It's not good for her, but she is amazing. [She has] incredible upper body strength so she carries herself, her entire weight on her front paws," Felts told TODAY. "I can tell that it is painful to her. But she is very stoic and stubborn."
Related: Neglected Dog Without Nose Gets Remarkable Transformation
And while Felts has worked with Goody extensively on rehabilitation, the dog still couldn't run. Until now.
The pup received a pair of prosthetic legs created by OrthoPets, allowing her play, run and walk — just like any other dog.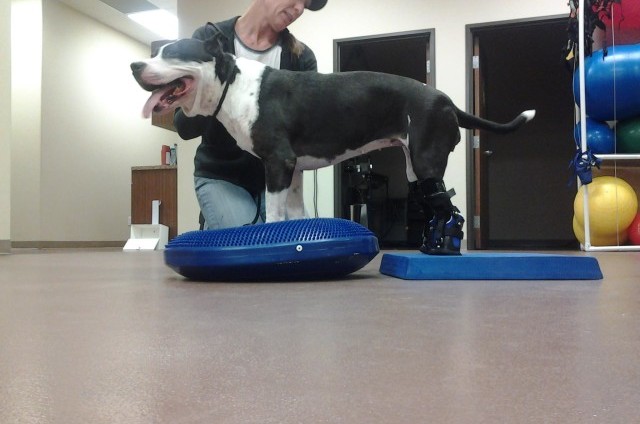 "Amazing… truly amazing, she's, she's a good dog and what's she doing, I was not expecting this," veterinarian Douglas Strammel, who helped attached the prosthetics to Goody, told TODAY. "I was hoping we would get them on, I was going to be thrilled if she would stand, and she's standing there without issues going, 'OK mom, let's walk.' She's a trooper."
Related: 3D-Printed Legs Allow Dog to Walk
H/T TODAY
Images via Facebook