After a photo of two dogs hugging went viral on Facebook, the pair were rescued and saved from being put down.
The snapshot was taken at a Georgia shelter on July 20 and shows eight-month-old hound mix Kala and Kiera, a one-year-old boxer mix, embracing. The pair were set to be put down but after receiving more than 16,000 likes and more than 9,000 shares on Facebook, they ended up being saved by Angels Among Us Pet Rescue and Etowah Valley Humane Society.
"Exactly 2 hours and 6 minutes. That's how long it took this amazing community of animals lovers to come together to save the lives of two canine friends," the Angels Among Us post reads (original plea at bottom of post). "We just received word from our Angels volunteer that Kala and Keira are safely in the car and on their way to a vet -All thanks to you. From the time we posted on Facebook until the time the dogs were out of the shelter and safely in the car … 2 hours and 6 minutes. That's how you take action!!"
Related: Dogs Saved From South Korea's Canine Meat Market Are Looking for Forever Homes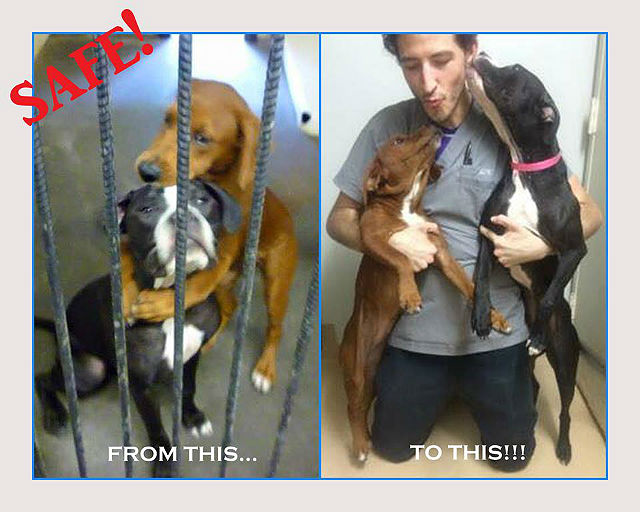 According to the organization, the dogs were rescued 12 hours before they were scheduled to be put down at Bartow County Animal Control in Cartersville, Georgia.
"The timing was great because I was talking to her … and next thing you know she just came over and hugged the black dog," Malena Evans, who took the photo and is an adoption coordinator at Etowah Valley Humane Society, told ABC News. "We started about five years ago, started posting stories about the dogs. If they are together, we want to adopt them together, keep them together. We've grown on Facebook from 500 people five years ago, and we just hit this week 700,000 fans on our Facebook page. And it's because of the stories."
Besides helping save the rescue dogs from being put down, the photo raised $3,400 to help cover the medical expenses of the dogs.
The next step is getting these pups adopted out. If Interested, head over to Angels Among Us adoption page for information.
Related: A Puppy Was Miraculously Saved From a Storm Drain — And It Was All Captured on Twitter
Here is the original plea:
I'm Kala. This is Keira. We're so scared in here. The people working in the shelters see how scared we are but just told each other that today is our deadline. We have to have someone rescue us or we'll be "next." Keira is black and not a "real boxer," just a mix. She's so brave and tells me it will be okay no matter what happens. She tells me to be brave too but I don't know if I can be. Can you see our faces. Keira knows what will happen. You can see it in her eyes. She's putting on a brave face for sure but I can feel her heart beating fast while I'm clinging to her. If no one saves us, someone will take her away from me. I'll see her as she goes down the hallway. She won't come back and I'll cry. They'll come for me next and I won't be as brave. We've comforted each other while we were here. She gave me hope when I had none. Now it's over. Unless…
Oh my gosh!!! We see a lot of things in rescue but this absolutely will reduce you to tears! Kala and Keira are in a shelter and are scheduled to be put to sleep. Today is their last day unless we can save them. This is as urgent as urgent can get. We really don't have time to spare. We have no fosters available. Animals in need have overwhelmed us recently and we must have someone today apply to foster. These friends can be separated. They will do fine as long as they're alive. You can donate, share and pray. But that alone won't save them. Someone from Angels will be with you every step of your foster journey. You won't be alone and you'll have more joy and reward than you could ever imagine. If you've ever wanted to foster but just couldn't quite decide, now is the time to say YES!!
Related: Dog Saved From Burning House in Brooklyn