After surviving off pineapples for four years in the wild, a dog has been finally reunited with his owners.
Aubrey Lee was walking her dog Sammy, a 3-year-old Labrador, in the Wild Horse Mountain area north of Brisbane in 2013 when her dog disappeared from Lee.
Related: After Missing For 10 Years, Dog Is Reunited With Family
When Lee went to the vet to meet the dog, she was unsure if it was indeed her Sammy.
"I called her Sammy and she looked straight up and wagged her tail," she tells ABC. "She also buried her head straight into my mum's legs."
The dog also has a unique scar that Sammy has too. While there is no microchip,the family believes these two things prove almost for certain it is their dog. (They have ordered a DNA kit to be 100 percent sure.)
Related: Smart Dog Houses Will Keep Your Pup Safe While You Run Errands
"Deep down I thought it was her straight away, her face and eyes especially, but I still had to check for the other things I've always looked for," Lee tells the outlet.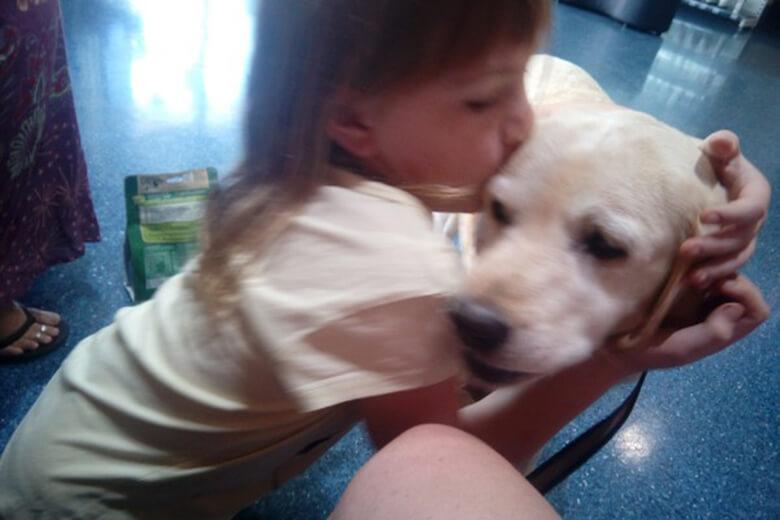 The vets believe Sammy survived in the wild, living off pineapple from local farms. The fruit can rot a dog's teeth, and Sammy's mouth is in horrible condition.
She also has an injury on her leg — which Lee believes is an old wound that was left untreated — and required surgery.
Despite her long road to recovery, both Sammy and her family are happy to be back together.

"She's very happy and relaxed just very exhausted," Lee told the outlet.
Related: Puppy Found in Plastic Container at Airport Gets New Home