Defining what "art" is and isn't exactly what makes it so effective at delivering a message: It encourages individuals to have a conversation, often regarding a topic they may not have previously considered or even been aware of. The use of art in all forms has served as a vehicle to raise public awareness of many issues, from street harassment to the global water crisis and everything in between. One Connecticut teen has combined her love of art with the love of her dog to make a big impact.
Seventeen-year-old Annie Blumenfeld is the teen behind Wags 4 Hope, a nonprofit dedicated to raising awareness about heartworm prevention in dogs (and cats) through artwork. Blumenfeld sells custom pet portraits and donates 100 percent of the proceeds to shelters in need. To date she has raised $40,000 from her artwork, corporate donations and supplies.
Related: French Bulldog Miss Pickle and Her Mom Break Down Art Basel for Us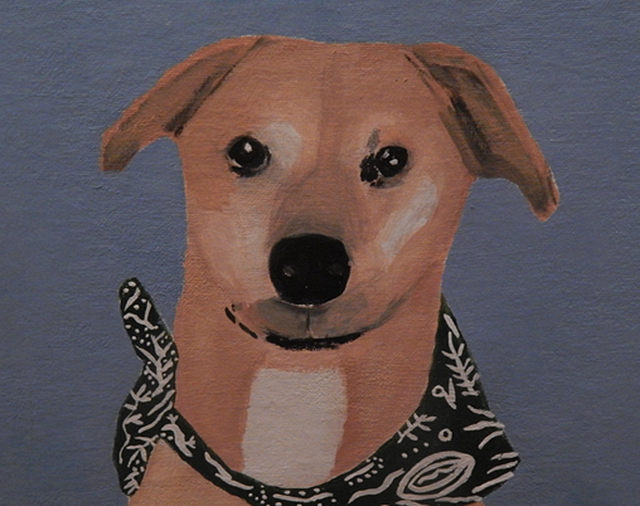 "I focus on supporting the treatment of animals with heartworm, so that they can recover to be able to find their forever homes," says Blumenfeld, of how her donations go on help dogs in need. The condition, which can ravage a dog if untreated, is caused by an infected female mosquito laying heartworm larva on a dog's skin. These microscopic worms enter the pup's bloodstream and live in his heart, lungs and associated blood vessels, causing lung disease, heart failure and other organ damage. If untreated, it could be fatal.
This cause is close to her heart, as her family's dog Teddy had tested positive for the disease in his native Texas and was had to go through tiring treatment before making his way up north and into their home. It is for this very reason that Blumenfeld took a personal interest in stressing the importance of heartworm prevention, a relatively low-cost and simple combination of annual blood work and monthly preventative medication.
Helping a heartworm positive dog is especially important for those found within the shelter system. Not only is heartworm highly contagious, a positive diagnosis is incredibly time consuming and expensive to treat (Blumenfeld says the cost averages $600 for small dogs and $2,000 for larger breeds), an unfair fact that often pushes these dogs to the top of the kill list in many shelters across the country
The mission Blumenfeld set out to achieve with Wags 4 Hope is not only to help treat heartworm positive dogs but also to raise awareness and educate the public. "It was something that was not publicized," she says. It needed attention, since it is so easy to avoid."
Related: Meet the Dog That Is Taking the Art World by Storm
She began by creating and distributing a flier to animal welfare organizations, animal-friendly companies and even universities, educating pet owners of the severity of the disease and the simplicity of prevention. To date, this flier has found its way across all 50 states, even reaching as far as parts of West Africa and Australia. However, her most ambitious hurdle to climb would be her work in implementing an addendum to the Connecticut dog licensing process, a challenge that eventually proved successful in January of 2015. In the state, all dog-licensing applications now include an educational message – "Heartworm disease in dogs is preventable. Talk to your veterinarian." — featured underneath an original Blumenfeld drawing.
While Blumenfeld has found a way to successfully use her art, voice and drive to incite change, she has no plans to stop anytime soon. "Connecticut is the first state to have the heartworm message on the dog license," says Blumenfeld. "I am in the midst of reaching out to animal-welfare organizations and animal advocates in the South to have this change implemented if there is enough room in their states' Agriculture Department's budget." Until then, this tireless teen from Connecticut is working to advocate for healthier pets, one state at a time.