Some dogs take to water like ducks, and some dogs, well, don't. Buddy, the golden retriever, definitely falls into the latter category.
Since he was a wee puppy, Buddy has been enjoying the hospitality of Lucky Puppy doggy daycare, a large cage-free doggie playground located in Maybee, Michigan. Dogs can enjoy romping around on a few three-acre playgrounds, seven acres of nature trails, a one-acre "jungle pup," a climate controlled indoor playground, grooming and boarding facilities, and most dogs' favorite: a bone-shaped inground pool.
While Buddy clearly enjoyed dipping his paws in the water, unlike the other dogs, he staunchly remained standing on the very top step that leads into the water. As time went on, it seemed that Buddy wanted more. He'd anxiously pace back and forth as he watched dogs leaping off the edge to retrieve balls and toys in the pool.
"Buddy has always loved the pool but he has never taken the 'plunge' before to actually swim," says Lucky Puppy owner Brenda Langley. "We don't force the dogs to swim, but we do insist that they stay wet on super hot days, so if they don't get wet themselves, we will take them to the top step and splash water over their backs and bellies to keep them cool." On serious scorchers, dogs that hate to get their paws wet are shown to the air-conditioned indoor playground.
Related: Hundreds Gather for the Last Walk Owner Takes With His Dog on Beach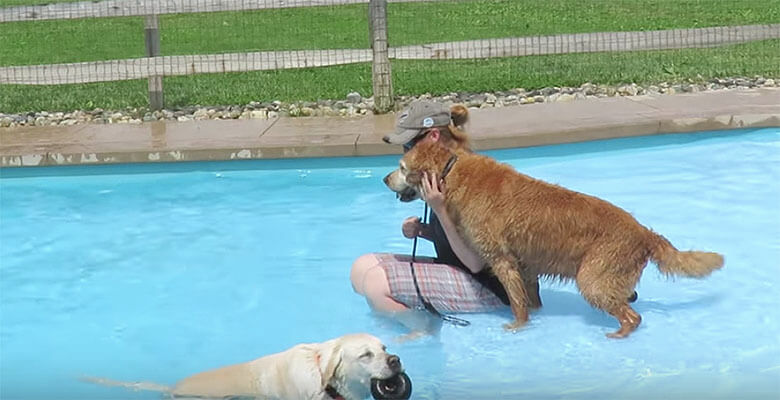 But Buddy isn't your indoor playground type. "Buddy will generally play on the top step and get plenty wet, so he has always stayed at the pool, when it is open, to play with his friends," says Langley. "He will also run around and try to get the toys that are floating in the pool by laying or standing by the side of the pool and reaching as far as he can to get ahold of a toy. He loves pool time! And he loves the pool toys."
And though Buddy made brief forays to the edge of the step, the "Pack Leaders" at Lucky Puppy kept hoping the dog would find the courage to take the leap.
This June 10th, Buddy was almost at the end of his 2-week pupcation. Buddy assumed his perch, up to his ankles in pool water. The temperature was nearing 90 degrees. "Since it was on a Saturday, Kristina (my daughter and co-worker) had extra time to try to schmooz Buddy into the pool," says Langley.
Related: This Dog Thinks Puppy Pool Parties Are Lame
Buddy and Kristina have a special bond. Before the dog moved away, he was a regular customer. "When Buddy was a daycare kid, he was part of a group that we would provide transportation for," says Langley. "Kristina would oftentimes be the one to pick him up in the 'bus' and bring him to daycare, so she holds a very special place in Buddy's heart."
Kristina is Lucky Puppy's very own dog whisperer. "Kristina has always been good about getting the dogs to swim when they are a little timid or nervous," her mother says. "She will get right in there with them and call them to her and encourage them every step of the way."
For Buddy, all the swimming stars finally aligned. After a few tense moments, Buddy leaped off the top step and took his first dog paddle. "Kristina called me on the two-way radio and told me, 'You have to see this! Buddy is swimming!' I was shocked! In nine years, he has never gone into the pool."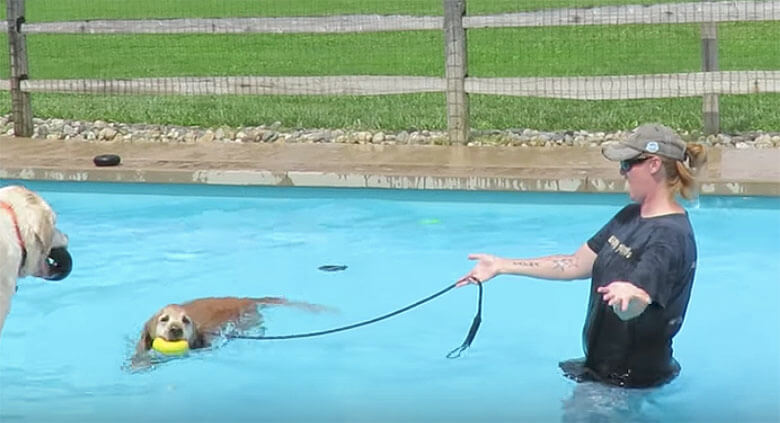 She grabbed her camera to videotape the accomplishment. "You can see in the video that he went straight for that toy too! I'm sure he had his eye on that prize the entire time."
Buddy continued to enjoy swimming for the rest of his summer vacation. "We still had to get in with him and coax him in, but he continued to be more confident," says Langley.
Now that Buddy's no longer a local, he only comes to the doggie resort to vacation. "I am anxious to see if he will swim during his next vacation," she says."I hope he remembers that it's safe and fun."
Related: This Is What a $2.7 Million Dog Luxury Spa Looks Like
Check out the video below to see the big moment.