When mixed-breed Remo was discovered trapped in a metal cage and baking in the Florida sun, the dog was clinging to life. Dehydrated, emaciated, riddled with parasites and raw skin infections, the pit mix still managed to wag his tail and kiss his rescuer before collapsing.
Putnam County Animal Officer Kathy Tillman carried him to her truck and drove to the local shelter, only to be told they were at capacity and the dog would likely be tagged for euthanasia.
That's when Jen Deane, president and founder of Pit Sisters rescue group, stepped up to the plate.
"He was a happy boy, but he was lethargic, extremely thin, and almost completely hairless," she tells This Dog's Life. Deane had the dog transported to the nearest vet, where he spent several months recovering.
Related: Dog Found Weighing Only 6 Pounds Recovers to Walk New Owner Down Aisle for Her Wedding
His road to an adoption was far from over. "Remo had no training and was not well behaved, so we knew TAILS was the answer to teach him what he needed to know to be successful in a home," says Deane.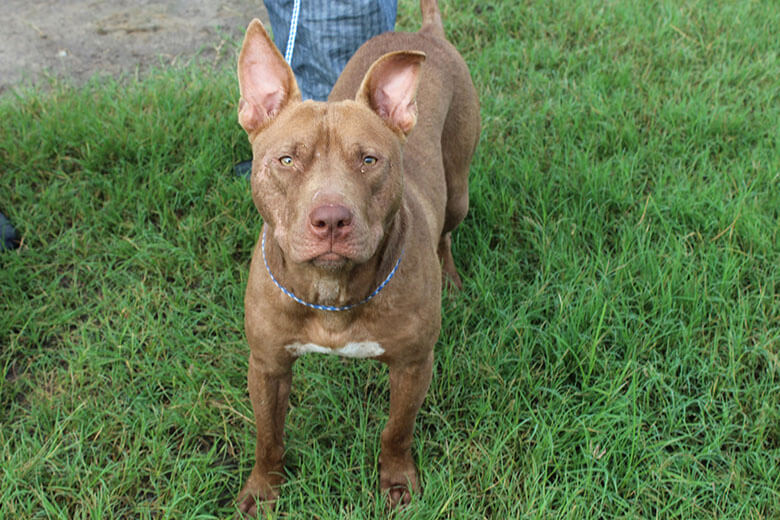 TAILS (Teaching Animals & Inmates Life Skills) is a training program that brings inmates and shelter dogs together to be trained, cared for and socialized with the goal of getting the dogs into loving forever homes. The program is 8 weeks long, and it teaches basic obedience and addresses the most common issues such as jumping, chewing and housetraining.
Remo was matched with an inmate trainer named Howard Culpepper at Montgomery Correctional. Previously, Culpepper had avoided dogs since he was bit by one when he was 13 years old, according to People. But when he heard Remo's story and saw his picture, he decided to take a chance and foster him through the program.
The loving nature of the dog and his enthusiasm for humans — despite what they had done to him in the past — had a positive effect on Culpepper's perspective. "He credits Remo with changing his life," says Deane.
Related: Former Female Inmate Who Trained Dog Adopts Him
A fast learner, Remo earned his "Ph.D." in behavior. "To get a Ph.D., a dog must be able to do sit, down, stand on command, back up on command, hold their attention on their trainer even when someone is knocking on a door, roll over, shake, hand target and so much more," says Deane. Remo is one of only five dogs in three years to get that far.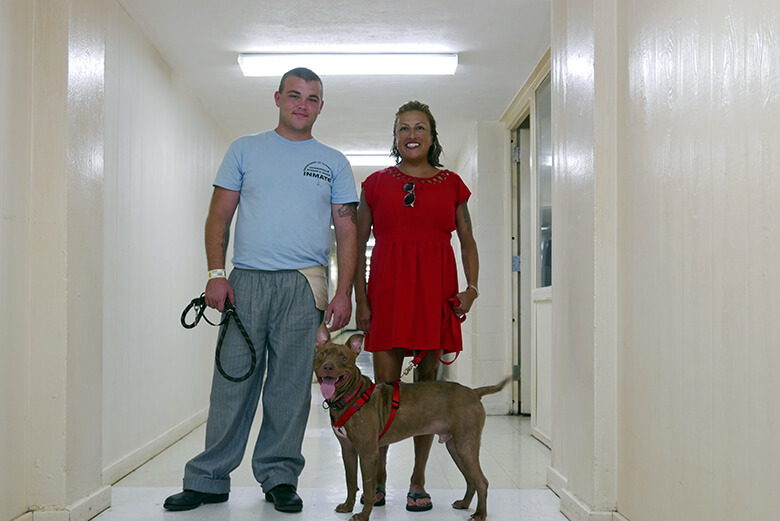 "Remo became an extremely well-trained dog who made a full medical recovery," says Deane. For the people who came to rescue, Remo made a lasting impression. They will never forget this dog's resiliency and his ability to love and be happy despite his abusive past.
Over time, the dog gained 30 pounds and his injuries healed. His story has a happy ending; Remo was recently adopted into a loving home.
Related: Dharma Rescue Gives New Purpose to Disabled Dogs Saved From Death Row