Thanks to a couple's big heart, a visually-impaired dog and his guide pup will remain together.
Last month, three dachshunds were dumped and brought to the Marion County Dog Services in Salem, Ore.
While one dog was quick to go and find his forever home, the other two needed a little bit more help. The two, one, a long-haired, black-dappled female named Hilda, and her buddy, a light brown, smooth-coated named Herbie, were kind of a packaged deal. They were a special bonded pair, which was apparent when Diane Young at local dog rescue group Salem Dogs took the two pups in.
Related: Caught on Camera: Inseparable Shelter Dogs Reunited After Spending Months Apart
"When I and the shelter staff saw Herbie walk into walls, it was obvious he couldn't see much," Young told Statesman Journal. "We believe he sees some shadow and movement, but Hilda shepherds him around and protects him, and we knew immediately they needed to be adopted as a pair."
To up their chances of getting adopted, Young had the two dogs spayed and neutered, microchipped, their teeth cleaned and vaccinations up to date.
She put the photo online and hoped someone would take notice of them.
By chance John and Dorothy Sinnar of Yakima, Wash. discovered them online.
Related: Boy Born With Dwarfism Finds Friend in Dog With Same Condition
"I'd been Googling dachshunds and knew we wanted a rescue because we'd rescued Annabelle from a puppy mill in La Pine years ago, and I somehow got onto a Salem site and saw Hilda and Herbie," John Sinnar told the outlet. "I told Dorothy that 'I think these are our dogs' and I knew immediately that we had to go see them."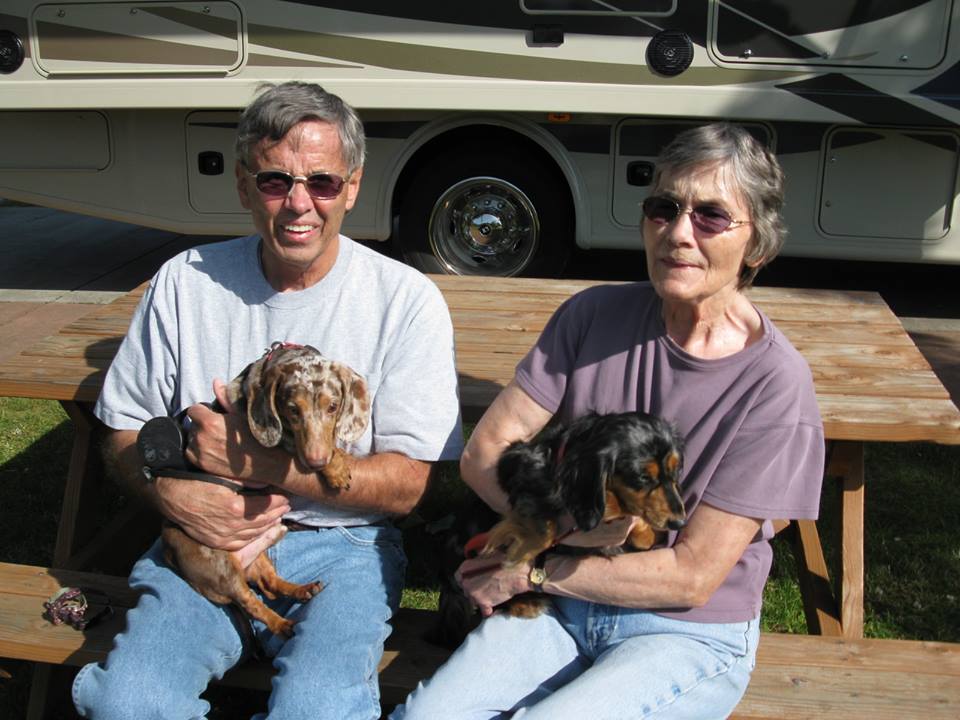 Driving five hours in their motor home to meet the pair, the Sinnars were sold the instant they met them.
After doing a mobile-home inspection and talking to the pair to ensure they would acclimate the dogs in their home setting, before going on the road, the pups were happily welcomed into the family.
"Dogs are like medicine," John said. "They'll keep you healthy in so many ways."
Related: Boy With Autism Brings His Mat Every Week to Shelter and Reads to Dogs
Images via Facebook