Ahhh, Thanksgiving. The time to gorge yourself with delicious foods like deep roasted turkey, pillowy sweet potatoes topped with marshmallows, classic green bean casserole, cornbread stuffing, velvety mashed potatoes and of course, good ole pumpkin pie. The only holiday where naps are encouraged and extra helpings are expected. The day when friends and family do away with drama (most of the time) and just enjoy each other's company.
But these things aren't even the best thing about Thanksgiving. You know what is?  FULL PUPPY BELLIES! Full puppy bellies aren't a part of your Thanksgiving? You have some learning to do, my friend…
Related: The 12 Dogs You'll See at the Park
1. Don't even think about sitting with the adults. You have kid's table written all over your face…er, belly. Go on and hang out with your cousins that you talk to just once a year.
2. According to the Internet this is not a tiny, frozen turkey. I don't believe it either.
3. Ask me to "pass the rolls" one more time AND SEE WHAT HAPPENS!!!
4. Is it physically possible for a single puppy to stay awake for the two seconds it takes to snap a photo after just one helping?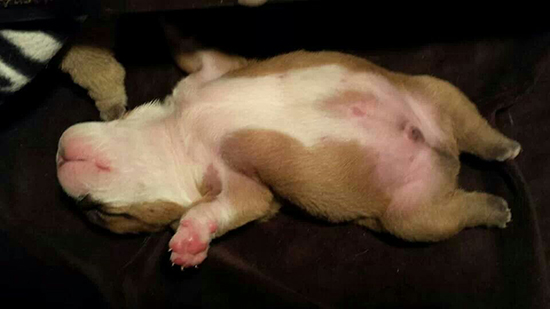 5. Apparently not.
6. Worst attempt at cleaning the table, ever. I appreciate the OFFER THOUGH! (glares at husband)
7. This is exactly how everyone's grandfather will be found 15 to 20 minutes after the last dessert plate has been cleared. He'll be wearing pants, though (we hope).
Related: Boy With Autism Kisses His Mom for the First Time Thanks to Rescued Pit Bull
8. And this is how the rest of us will be found another 10 minutes after Instagramming photo of said Grandpa.
9. So…thank…FULL.
10. "I wonder what's up with the gam-" "NOPE."
11. I'm coming for you, leftovers!!  Eh, forget it. 
12. Happy Thanksgiving!
 Related: Owners of Celeb Dogs Reveal Why They're Thankful for Their Pups This Thanksgiving