Marine Corps Veteran Frank Giarmida got the surprise of a lifetime at the Giants game this Sunday: a service dog.
Giarmida was on the field of MetLife Stadium during the Giants game when unbeknownst to him, Scarlet, a 7-month-old German shepherd, made her way out to meet him.
"I see the dog come out and I'm looking at the screen, and I see a dog and I'm looking around and I didn't even hear what the commentator said anymore," Giarmida told CBS New York.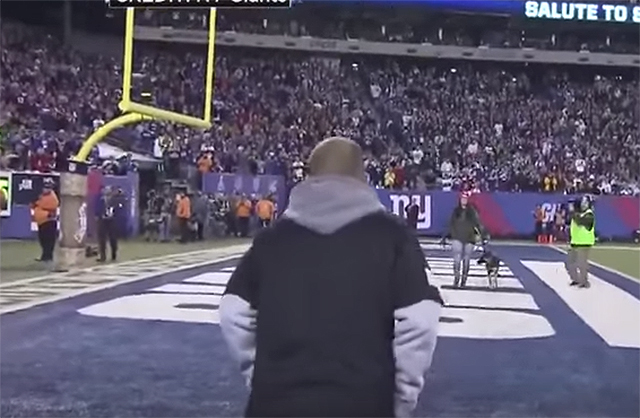 Related: Huge Outpouring of Support for PTSD Veteran Whose Service Dog Was Shot and Killed
After fighting in the Iraq war, Giarmida had waited two years to receive a service dog, an animal that will provide much-needed companionship and support.
"The last 10 years have been a struggle," Giramida told the outlet. "Six months ago, I recently lost my fiance to a brain aneurysm. So this service dog is going to do a lot for me."
The dog was provided by Paws of War, a nonprofit funded by Cow Harbor Warriors, an organization that supports post-9/11 war veterans. The group rescues dogs from kill shelters and trains them to be service dogs for vets.
Related: How One Nonprofit Is Connecting Our Country's Loyal Service Men and Women With Shelter Pets
"This is going to be my best friend," Giarmida said. "I need a friend."
H/T CBS New York