We had the pleasure of attending the Healthy Spot Topanga grand opening "pawty" at the Village at Westfield Topanga Canyon last weekend. A new central gathering place for shopping, dining, events, entertainment and leisure, the Village at Westfield Topanga mall boasts unique water features, serene pedestrian pathways, relaxing outdoor lounges and more, making it the perfect resting place for Healthy Spot's seventh location.
According to Healthy Spot's co-founder Mark Boonark, the location was a no-brainer. "The addition of a lifestyle center similar to The Grove (shopping mall in Los Angeles) would serve to be a perfect home for us as we tend to categorize ourselves more like your local errand-type store."
Related: Healthy Spot: Where LA Dog Owners Go for Wholesome Food and Top-Notch Services
Complete with the same services and products as Healthy Spot's other locations, this branch will feature full-service grooming, small dog daycare, Jennifer McCarthy dog training, anesthesia-free dental cleaning and VIP petcare vet clinics.
We arrived at the event early with our pup Petey to beat the heat (it was nearly 102 degrees out there!), and made our way into the event. As soon as we walked in, we were greeted by Healthy Spot's friendly staff, some fun tunes and of course, tons of pups!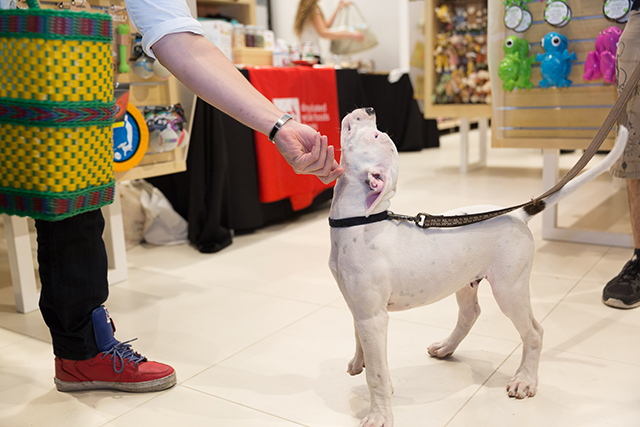 The first 50 pups to arrive were given free gift bags stocked with goodies from Grounds & Hounds, Bosco & Roxy, Isle of Dogs, K9 Naturals, K9 Grillz and more. Petey also enjoyed one too many treats from vendors like Grandma Lucy's, Malibu Dog Kitchen, Nature's Kitchen, Plato, Primal, Stella & Chewy, The Honest Kitchen, Wild Calling and Ziwi Peak. It was great to check out new items from some of our go-to brands while also discovering new items from others. Our favorite part? The D.I.Y. pup bandana station — we doodled the cutest little get-up for Petey. He loved it so much, he rocked it for the remainder of the weekend!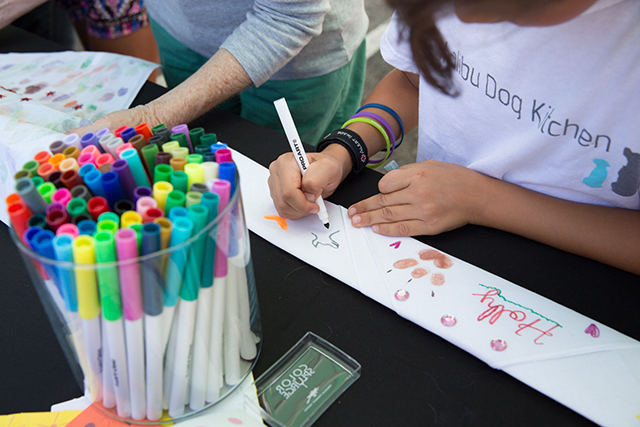 Related: Coffee Company Grounds & Hounds Wants You to Wake, Brew, Rescue and Repeat
As you probably already know, it's pretty hard to stroll the aisles of Healthy Spot without finding something your pup just "has to have." After a bit of browsing, we picked up some yummy Dental Chews by PetzLife, a new stylin' leather leash and a super-comfy harness by Puppia. The sales associate was quick to inform us that they were offering free nail trims with every purchase, too, so we definitely took advantage of that.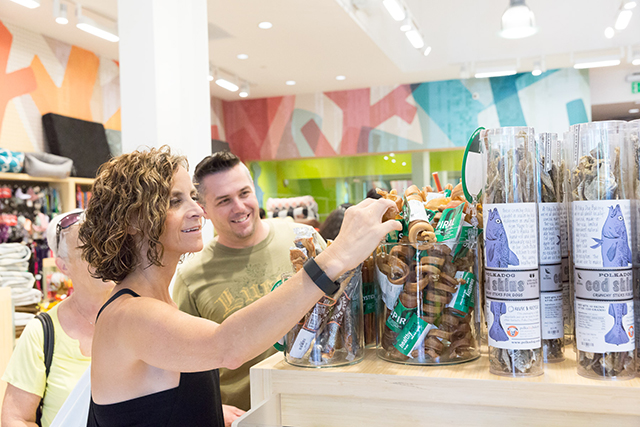 Along with a grand opening, Healthy Spot Topanga was also celebrating a new partnership with L.A. Love & Leashes, a nonprofit pet store dedicated to animals at LA's city shelters. After noticing that its "adopt shop" in a local mall was overshadowing their efforts to educate and bring about awareness for the pet overpopulation challenges in the city, Healthy Spot decided to help. "When we had the opportunity to expand our first location [Santa Monica], we decided to provide them with a space free of rent and the burdens of trying to sustain profitability," Boonark explains. "This allowed them to truly focus on adoptions and their larger initiatives in the rescue community. We are really excited to have them as part of this new chapter."
Another highlight of the event was the doggie photo booth outside the store. We just couldn't leave without getting some adorable snaps of our little star (in his stylish bandana, of course!). While the pictures were surely a reminder of the fun we had at the shindig, we also left with full bellies, warm hearts, and an all-new appreciation for a company that not only makes pups happy, but that supports such wonderful causes, too.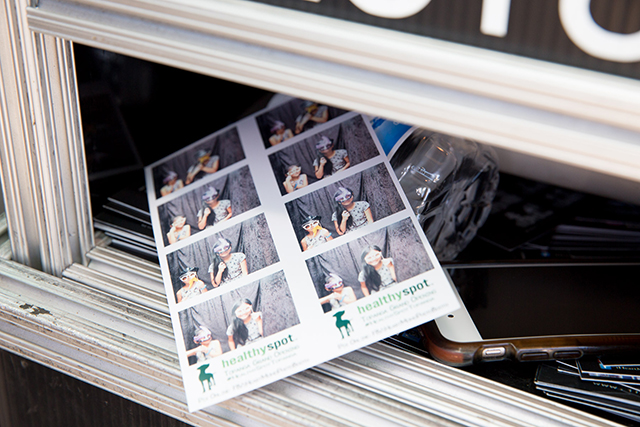 Thanks for everything, Healthy Spot! You guys sure know how to throw a pawty!
Related: How This Little Store Helps the BARC Shelter Thrive in a Big Way
Photo Credit: Nick Batcheller