A French mastiff that was buried alive is now finally able to understand what it means to be loved.
Back in August, Pedro Dinis was walking his dog when he saw the French mastiff on waste ground in Carrieres-sur-Seine, a town outside of Paris. Dinis posted a picture on Facebook saying, "Only her head was visible and it was difficult to see given the amount of earth covering her."
Related: Photos of Dog Buried Alive Spark Online Fury
After calling emergency services, he began to try and free her. As he dug, he noticed a rope around her neck that was tied to a bag of concrete, a restriction that would have made it impossible for the dog to escape on her own.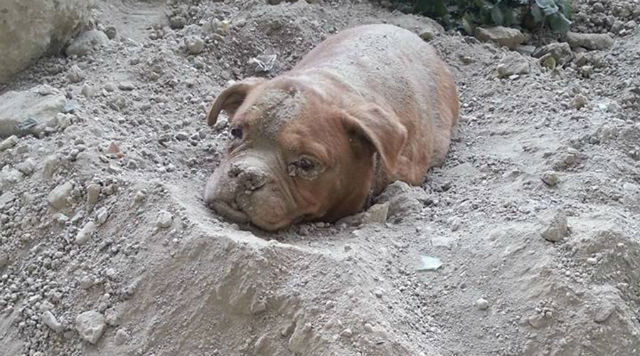 Eventually, the 10-year-old mastiff was freed and taken to Veterinary Clinic V24, where after a lot of TLC and medical care, she made a full recovery. Now named Athena, staff told The Dodo that once she was able to trust the people around her, her personality began to shine through. "She's very friendly, not aggressive at all," clinician staffer Barthélémy Balli told the outlet. "She's a good, good dog. Really very nice." Athena obviously only deserves the best, and the best she got.
She has now found a forever home with couple Jean-Pierre and Raymonde Delfosse, who run dog rescue group SOS Dogue de Bordeaux. She can stroll around the yard, enjoy the garden and socialize with other dogs.
"She is a lovely dog," the Delfosses told The Dodo. "She has recovered well and is confident around people. It's love."
Athena recently got a surprise when the man that saved her stopped by to say hi.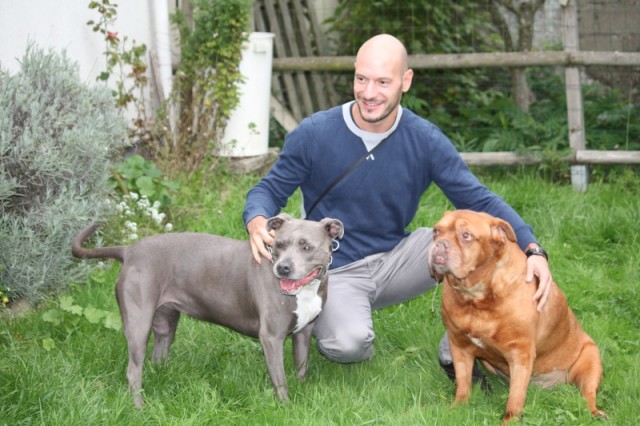 While things are looking up for Athena, the same can't be said for the owner. Police did arrest a 21-year-old man who denied harming the dog and said she ran away. Police said this was "not very plausible," due to her age and the fact she has arthritis. He was charged with animal cruelty and could be sent to prison for up to two years and pay up to 30,000 euros, or $32,600, in fines. His case goes to court early next year.
H/T The Dodo
Images via SOS Dogue de Bordeaux