After missing for more three weeks and causing a massive search in the Los Angeles community, a beloved service dog named Lucy has been found.
Known by many for her gentle soul, Lucy was the unofficial greeter at a Santa Monica pet hospital. Her kind spirit captured the hearts of many in the community, especially since she overcame a very difficult beginning.
Lucy was an abused pit bull that was found abandoned in 2013. She ended up being adopted by veterinarian Antje Hinz and her boyfriend Finn Egan.
"She was so scared if you tried to pet her she'd shake in the corner," Egan told NBC Los Angeles.
But with a lot TLC and patience, the pit bull transformed into a love bug who went on to receive her service-dog certification and provided support as Hinz battled breast cancer. (Here is a video of her.)
Related: Miracle in Texas: Family's Two Dogs Separately Found Under Tornado Rubble
So, when Lucy ran away from her dog sitter on Labor Day, the community united to get the word out about this missing girl. Posting signs, taking to social media and talking to people, a sighting of Lucy finally came three weeks later. Found wandering in Culver City, Egan rushed to the neighborhood. "I called her name and she ran into my arms," he told the outlet. "Such a relief." Cell phone video captured Hinz and the dog being reunited, where the dog just kept giving her kisses.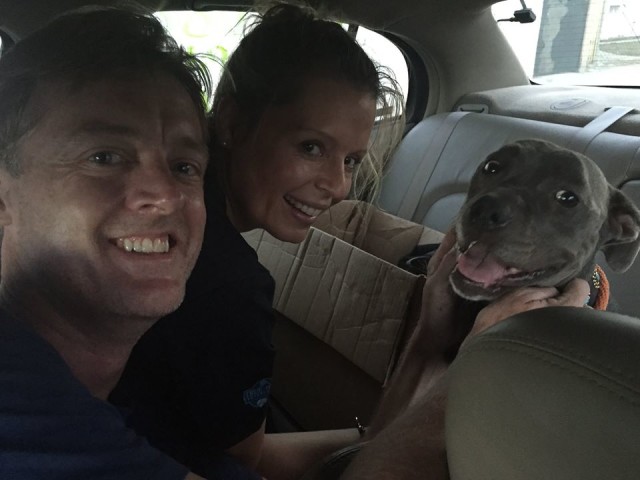 No one knows what happened to Lucy, but she did need to be taken to the hospital where she is being treated for cuts, broken teeth and loss of weight (she dropped about 10 pounds). On Tuesday, which happens to be Lucy's fourth birthday, volunteers showed up at the hospital to show their love and support for the recovering dog.
"She just brought so many people together looking for her," said Hinz. "It's like she was a symbol for all of us rescuing animals."
Hinz and her boyfriend are in the midst of creating a nonprofit for helping people find their lost dog.
Related: Photographer Sophie Gamand Reveals the Real Magic Behind Her 'Flower Power' Pit Bull Series
H/T NBC Los Angeles